A Powerful Core Suite for P&C
A next-generation core suite for P&C personal, commercial, workers compensation, specialty and new products such as telematics, parametric and on-demand empowering accelerated business growth and innovation.
Purpose Built

Provides full lifecycle processing capabilities for all lines of P&C insurance, including new innovative products
Future Ready
Achieve new levels of visibility, agility and speed to manage and adapt your business to a new era of insurance
Speed to Value
Rich pre-configured products and out-of-the box content including ISO-based rates, rules and forms for speed to market
Digital Ready
Pre-integrated with Majesco Digital1st® Insurance platform to deliver personalized and engaging experiences that enhance customer satisfaction and business growth
Create the Future of Insurance on a Powerful Platform
Drive innovation and growth with Majesco P&C Core Suite

Rich and Robust Foundation to Accelerate Innovation and Speed to Value
Exploit pre-configured and ready-to-use content for rapid deployment for any line of business
Supports all lines of P&C business including personal, commercial, workers compensation, specialty and new innovative products
Extensive ready-to-use content, pre-configured processes for all products and states with over 4,000 forms, 14,000 data fields and 40,000 rules to accelerate implementation
Pre-configured products for all states and jurisdictions to easily customize enabling speed to market
Expansive Open API Catalogue with a "no code API framework" for rapid integration to enable and accelerate insurer's strategic priority – digital transformation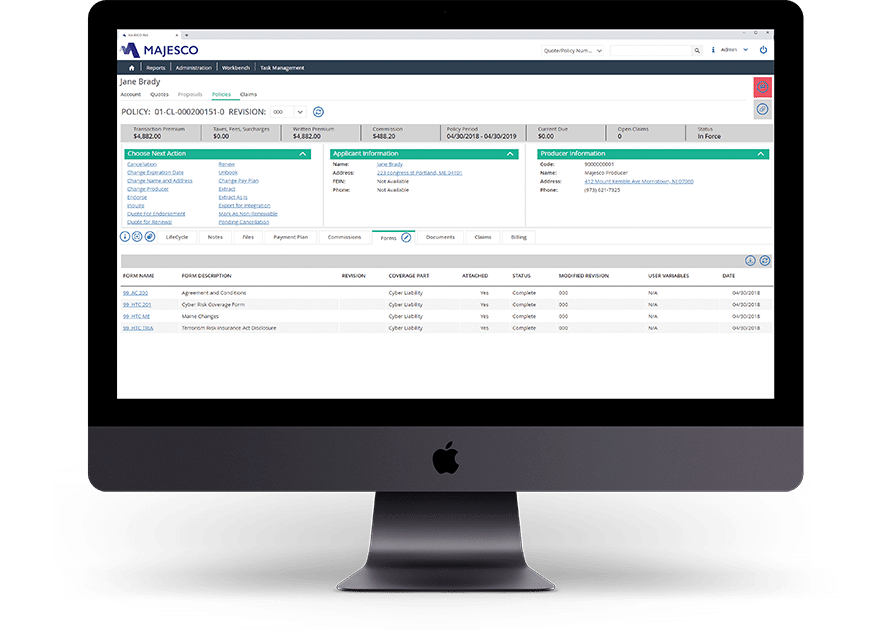 DELIGHT AND EXCITE AGENTS AND CUSTOMERS WITH SPEED, ADAPTABILITY AND CONVENIENCE

Cutting-edge tools and capabilities to optimize your business
Streamline and enhance risk management and underwriting decision quality with integrated advanced analytics, automated processes and exception underwriting
Powerful digital experiences for agents and producers across various devices providing a real time 360o view of their entire book of business with intuitive sales and services capabilities
Pre-integrated plug-n-play EcoExchange Apps to dynamically access marquee partner data sources and capabilities to accelerate digital transformation
Powerful CAT management capabilities targeting new challenges of new catastrophic events like COVID-19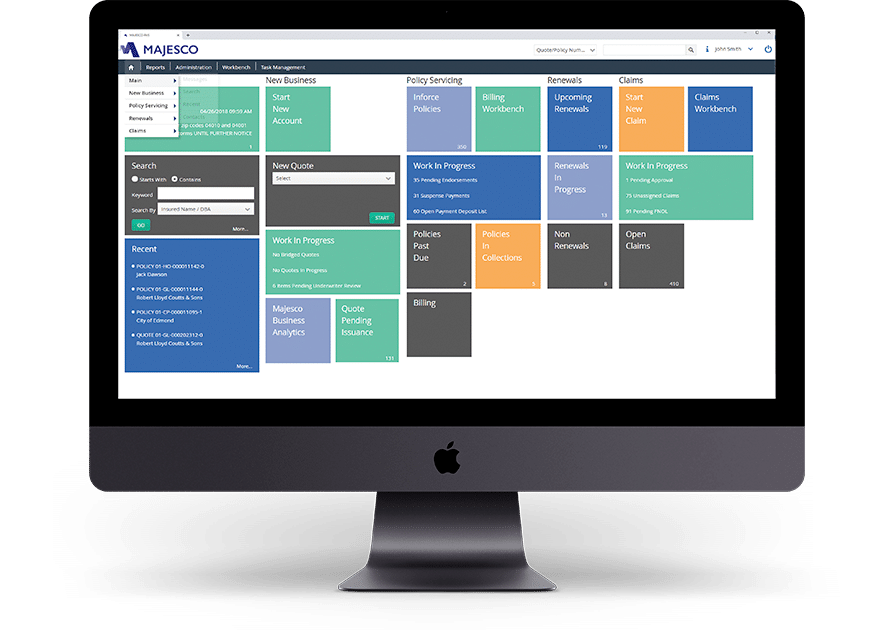 A POWERFUL INTELLIGENT CORE + MORE
Built for the next generation of business needs with open standards:
Pursue your cloud-native agenda in our highly scalable and secure solutions with core containerization support
Deliver personalized experiences to drive customer engagement and business growth with pre-integration to Majesco Digital1st® Insurance Platform
Leverage the largest repository of survey data with embedded AI/ML and access to 16M+ surveys and 200M+ tagged photos of specific risks used with AI/ML models to identify and assess risks coupled with policy, billing and claims data for close-loop analytics with a deep integration to Loss Control 360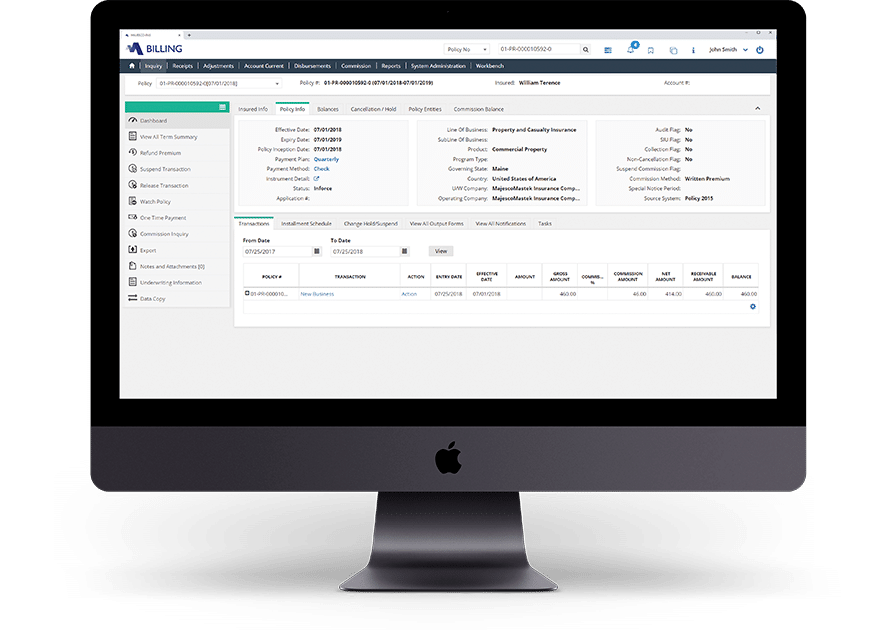 Delivery & Consulting Services for P&C Insurance
Ensure delivery success as you transform your P&C insurance business
How insurers are securing their
place in the future of P&C insurance
As P&C core insurance platform adoption continues to accelerate in North America and core capabilities rapidly become commoditized, CIOs must turn their attention to assessing deployment models and integration capabilities required to accelerate their digital business technology platform vision.
Sham Gill,
Principal Research Analyst at Gartner
Our commitment to our customers for a personalized, best-in-class experience at the right price during a time of market disruption and opportunity will be greatly enhanced with the implementation of the Majesco platform. From the beginning, Majesco's commitment to a rapid and quality delivery was pivotal to this successful implementation.
Steve Wagner,
President at AmCap Insurance
Leading carriers have no time to waste and are looking for a holistic approach to solving business problems. While feature/functionality remains important, they're looking for solutions that solve the problems of how to launch products more quickly, how to deliver a differentiated customer experience more successfully, and how to leverage analytics more successfully.
Karlyn Carnahan,
Head of Property Casualty | North America, Celent
P&C Insights and Resources
FAQS
What is a P&C core suite?
A core suite for P&C insurances includes policy, billing and claims components that are pre-integrated across the three, providing a solution that supports the end-to-end lifecycle of a policy.
Why should P&C insurers replace their core systems?
Today's insurers want the power to run their business on a single platform, to innovate, create and manage the products and content they need to respond to shifting customer demands and market opportunities, and to extend their business with compelling digital and data capabilities.
With Majesco P&C Core Suite gives insurers the power, flexibility and speed to innovate and create profitable growth year after year.
What are the key characteristics of a digital P&C core platform?
Today's digital experience is much more that putting a portal on top of your core system. Your core must be built on next-gen technology including cloud, APIs, and Microservices. It must be highly configurable, customer centric, deliver straight-through-processing, and be content-rich to support speed and scale. The next-gen core cloud platform enables you to rethink and innovate your business as a "digital-first" business, from your processes to your products, to meet the unique needs and expectations of today's and tomorrow's customers … with speed and scale.