The Rise of the Digital 2.0 Platform
The race toward the future of Insurance has begun.
A shift toward digital insurance platforms is underway.
Innovative new business models that leverage broad ecosystems and technology innovations including cloud computing, artificial intelligence, machine learning, and new data sources are creating greatly enhanced customer experiences for the insurance industry.
But a gap is growing between the business model of the past, Insurance 1.0, and the innovative new business model of the future, Digital Insurance 2.0.
Successful companies leverage technologies such as mobile, social and cloud to make better decisions, automate processes, strengthen the connection with customers, partners and channels, and pursue business model innovation, all at an increasingly rapid pace, positioning them as "digital first" companies focused on growth and innovation.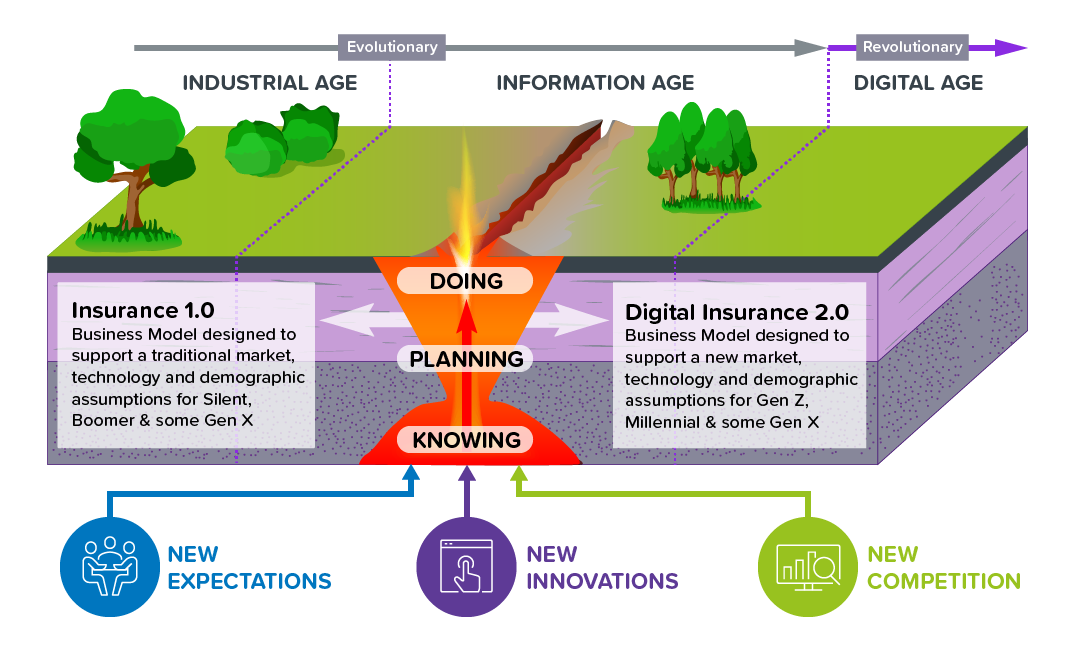 For an effective digital transformation, it is important that core, data and digital capabilities are available as microservices for integration, and are "fused" together for designing a compelling, unique digital experience and enables rapid innovation cycles and speed to market demands that adapt to market changes.
Since the beginning of automation, the insurance industry has seen fundamental design, architecture and technology shifts in insurance core software solutions. Today's transition is moving from a product to a platform focus underpinned by three key digital attributes: ecosystem friendly, customer experience and cloud computing.
Transitioning from Products to Platforms
Ecosystem Friendly
Sharable API / Microservices
Ecosystem Integration Hub
Diverse Partner Ecosystem
Data, AI / ML, Digital
Customer Experience
Beyond Portals
Engagement vs. Transactions
Customer Journeys
Cloud Computing
Technically designed to scale
Cloud-native architecture
Insurance companies must re-invent and transform their business to Digital Insurance 2.0 built on a new generation of digital insurance platforms.
Customer engagement & loyalty
New world products & services
Bringing Together Powerful Platforms for the Digital Era
Next generation core capabilities
Digital & AI capabilities
Digital Insurance 2.0 platform is built on next generation core capabilities, digital and artificial intelligence (AI) capabilities, cloud computing and a partner ecosystem.
The path to Digital Insurance 2.0 will enable insurers to:
Accelerate digital transformation to become digital era market leaders
Optimize the customer journey with deeper, personalized engagement
Accelerate innovation with new business models and products
Accelerate ecosystem opportunities and value
Avert disruption or extinction by new competition within and outside the industry
Majesco's platform solutions bring together powerful platforms to create your path to Digital Insurance 2.0.
"Platforms beat pipelines because platforms scale more efficiently by eliminating gatekeepers. Until recently, most businesses were built around products, which were designed and made at one end of the pipeline and delivered to consumers at the other end. Today, plenty of pipeline-based businesses still exist—but when platform-based businesses enter the same marketplace, the platforms virtually always win." Platform Revolution: How Networked Markets Are Transforming the Economy and How to Make Them Work for You, by Geoffrey G. Parker and Marshall W. Van Alstyne