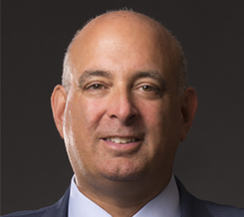 Adam joined Majesco as Chief Executive Officer in 2018. Prior to joining the company, Adam served as President of Global Field Operations and member of the Executive Leadership team at CA Technologies, a $4.5B Fortune 500 organization and business partner to the world's largest companies.
There he led high-performing teams who helped businesses grow across emerging markets and supported many of the world's most powerful companies through their digital transformation journey by helping them become more agile, more secure, and more capable of solving critical challenges and delivering innovation to adapt to changing market demands.
Under his direction, CA evolved from legacy software vendor to digital transformation leader across DevOps, API Management, Security and Agile Management.
As a software executive with a unique background across sales, services, development, support, operations and IT, Adam's tenure covers a broad spectrum of senior leadership positions at CA, including executive vice president of worldwide sales and services. With less than 24 months in this role, he created a modern, data-driven sales force that was instrumental in leading the company to growth for the first time in over four years.
Before that, Adam led and accelerated CA's mainframe and customer success businesses, including Customer Support, Portfolio Management and Acquisition Integration. He also served as executive vice president of global business operations and transformation, owning all aspects of the company's operating plan and business model transformation.
Earlier on as general manager of CA Services, Support and Education, Adam built an integrated global team that delivered strategic insight, implementations, support and training to help customers get maximum value from their IT investments. Prior to this, he spent three years as general manager for sales in the eastern U.S.
Adam joined CA Technologies in 1999 through the acquisition of PLATINUM Technology where he supported professional services focused on data warehousing, repository, and business intelligence. He received a Bachelor of Arts degree in psychology and his Master of Sciences in management and information systems from New York University.
He currently sits on the Board at PENCIL.org, a non-profit that connects businesses with schools to provide advancement opportunities for students in underserved communities.