Distribution Management Capabilities
Create and execute innovative distribution strategies to optimize existing channels and expand to new ones
Competitive edge
Optimize and expand channels with unique hierarchies and compensation models
Multi-Channel
Manage multi-channel distribution on a single platform to optimize performance
Channel performance
Cutting-edge technology to compare and maximize producer and channel performance
Compensation Simplified
Manage multiple channels, complex compensation schemes, high-volume changes, innovative contests and offer personalized payment schedules and self service.
A robust distribution management platform designed for a digital, multi-channel world
Delivering the agility you need to manage the changing distribution landscape
Channel lifecycle
Optimized channel management with flexible, rules-based compensation management
Quickly launch, integrate and manage new distribution channels and models, from the initial application to the final contract.
Manage multi-channel distribution and complex distribution hierarchies in one comprehensive platform.
Supports all lines of business for L&A and P&C on a single platform.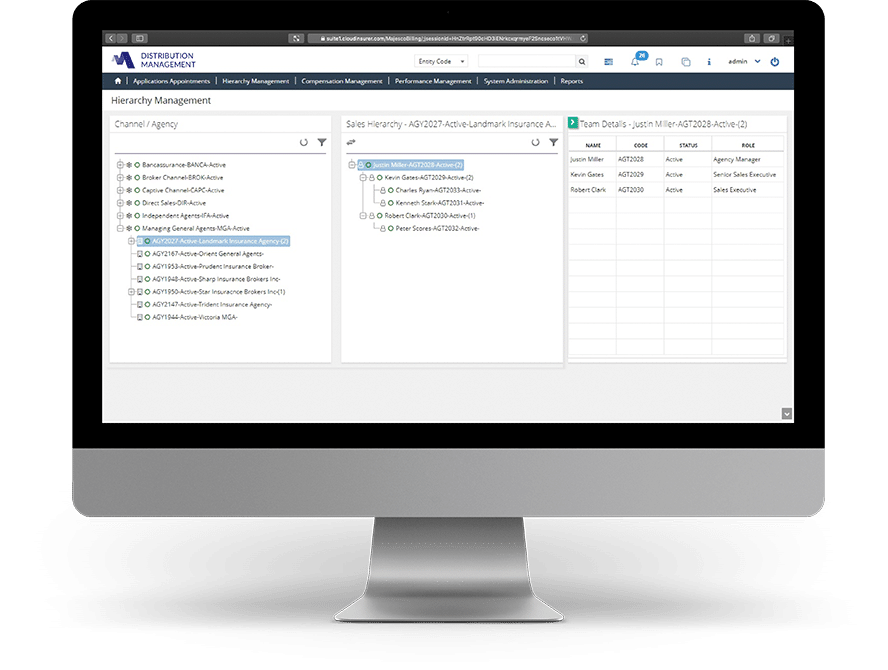 Channel performance
Advanced channel performance data and analytics
Track and optimize channel performance with advanced reporting and dashboards.
Compare producer and channel performance across a wide range of parameters, including targeted sales versus actual sales, persistency, and more.
Configured to create reports by roles and functions, providing easy and secure access to channel performance insights.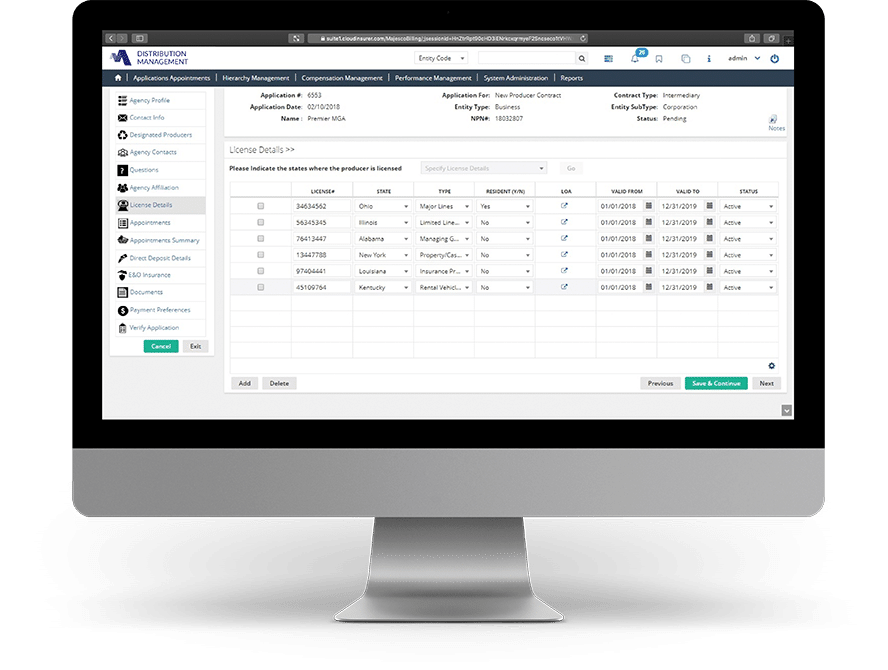 Channel experience
Enhanced recruitment, onboarding and retention with powerful self-service experience
Identify, attract and retain top agents and channels with the digital self-service capabilities they expect and demand.
Provide real-time access to electronic commission statements, dispute resolutions and online approvals by managers for requests to all producers.
Make it easier to do business through multiple channels using digital portals and mobile capabilities.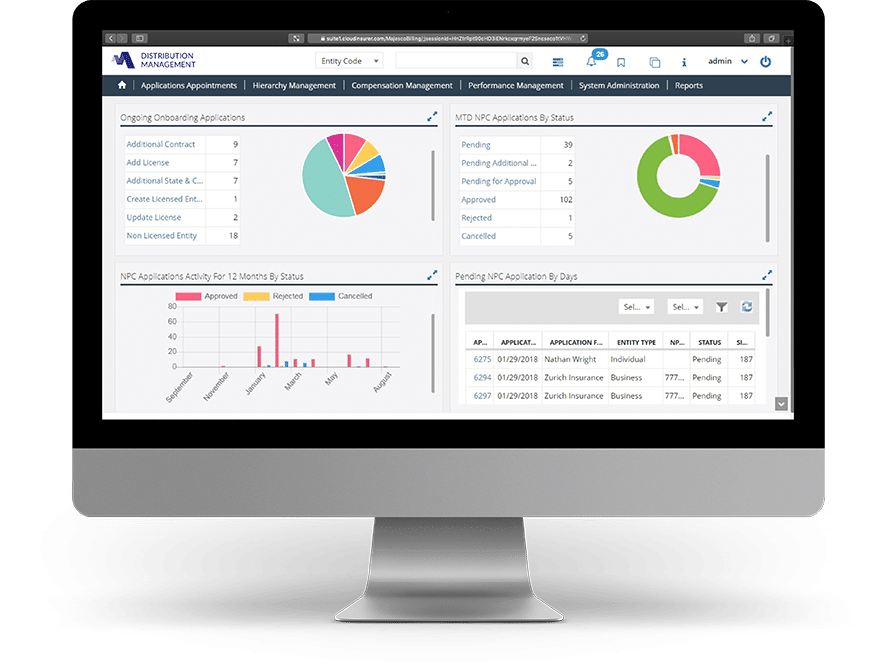 Delivery and Consulting Services for Majesco Distribution Management
Ensuring delivery success as you transform your multi-channel distribution strategy
Meet our customers who own the future of insurance
DISTRIBUTION MANAGEMENT RESOURCES
FAQS
What is an insurance distribution management platform?
Distribution management platforms must enable insurers to manage their distribution force with increasing sophistication including managing existing and new channel options, such as marketplaces, embedded insurance in other businesses, comparison sites and direct distribution as well as compliance including licensing and appointment, compensation and producer relationship management.
How does Majesco's distribution management platform support different channels?
Majesco's distribution management platform enables insurers to optimize their distribution channels with rich digital, distribution and data capabilities including unlimited lines of business, products, compensation structures and hierarchies across both P&C and L&A segments, built-in reporting and analytics with a robust data warehouse, centralized producer relationship management and performance monitoring, and built-in document management capabilities.
How does Majesco support digital, data and distribution management to meet carriers needs?
A 3D strategy – digital, distribution and data – to build, manage and optimize a multi-channel network —from front to back office. Majesco Distribution Management provides a new platform that brings digital, distribution and data together for a new era of insurance to help insurers optimize and grow business.