Blog
L&A and Group Growth and Engagement Strategies Benefit from Digital Playbooks
Selling an idea has never been easy, but in our current "low-risk" cultural climate, selling the idea of life coverage and annuities is more difficult than ever. While most consumers and business owners understand the basic value of insurance and employee benefits, the product and process complexity of Insurance 1.0 has made it difficult to create meaningful engagement with customers, causing many to view insurance as a necessary evil … something they need but don't necessarily want. For discretionary products like life insurance and voluntary employee benefits, this is an especially vexing issue. As health premiums rise, employees find less and less of their paycheck is available for additional coverage — whether that is through individual policy purchase or through employer group plans.
For decades, life insurers and annuity providers have been facing an industry in decline. As the population rises, growth should be steady. Consumer motivations, however, have been slowly unraveling, causing buyers to disengage and seek other methods of coverage or no coverage at all.
The steady decline has, however, created a new sort of opportunity — a rewriting of the life insurance and voluntary benefits playbook we have used for decades. The traditional sales processes, motivators, triggers and engagement methods can be completely re-envisioned. Playbooks will describe where, when and how new markets can be opened, and how new products can be utilized. Even traditional products may gain a new lease on life through digital engagement and a faster quoting and issuing process.
The Gen Z and Millennial propensity for connected environments may in fact make them better customers (and lower risks) than their parents — if insurers can create the plays that help them engage.
Because there is an overlap in trends and issues between L&A and Group benefit products, Majesco's new thought-leadership report, Digital Insurance 2.0: Playbooks for L&A and Group Insurers to Win in the Digital Age covers engagement opportunities in both areas. Our in-depth analysis covers:
Digital trends and activities for both individual consumers and small-to-medium businesses.
The forces creating opportunities in the benefits market.
Digital attributes that will prime the pipeline of innovation for insurers wishing to capture additional marketshare, and
The receptivity of new life insurance business models across demographic groups.
Majesco identifies new gaps affecting business strategy/operations
Most insurers are keenly aware of the internal and external trends as well as rising customer expectations that are impacting insurance. Unfortunately, the extent of their response to these areas is significantly lagging, creating a Knowing – Doing gap, which was reconfirmed in Majesco's 2018 Strategic Priorities report. We also found unexpected additional gaps, including the Business-IT gap, Large-Mid-market Gap, and Digital Strategy Gap. These gaps are accelerating and widening the gap between Insurance 1.0 and Digital Insurance 2.0, which will increase the difficulty for incumbent insurers to recover lost ground.
In Majesco's 2018 Strategic Priorities research, we identified an additional gap that was unique to the L&A/Group insurance segment: the Market Segment Gap. It is important due to its close-relationship to key areas of strategic importance, given the growth in new business models and competitors.
With a growing investment in InsurTech focused on individual and group insurance, the need to introduce a new business model, products and channels that are aligned to rapidly changing customer needs and expectations is further heightened. The growing market interest in new entrants like Haven Life, Ladder, Oscar, Clover and Vitality — companies that are capturing a new generation of buyers — place incumbent insurers increasingly at risk of being irrelevant and losing out on this new market opportunity. This gap will grow quickly!
However, there is a positive sign for L&A and Group insurers. Significant pressures within L&A Insurance 1.0 models are pushing L&A insurers to adopt more strategic approaches (as opposed to tactical efforts) when compared to P&C insurers. This may allow them to more rapidly shift to Digital Insurance 2.0.
Of fourteen strategic priorities that we identified, L&A and Group insurers outpace or are on par with P&C insurers across all the areas. More importantly, L&A and Group insurers significantly outpace P&C insurers in nine (65%) of the areas, potentially allowing them to leapfrog ahead of P&C insurers to Digital Insurance 2.0. This is particularly important as we continue to see the fading of boundaries between market segments and products. Strategic shifts are better-suited to consistently meeting changing customer expectations and needs.
Taking advantage of the gap
In markets with different, and sometimes less regulation, we are seeing new hybrid products emerge containing elements of P&C and L&A and Group, such as an auto policy with a term rider. For voluntary benefits, a new generation of employees want new types of benefits that are not traditionally L&A oriented, like pet and travel insurance or school loan repayment benefits.
In today's increasingly boundary-less market, insurers who position themselves strategically to move to Digital Insurance 2.0 more quickly and effectively can capture the opportunities unfolding in the rapidly changing marketplace and be on the growth side of the market segment gap. L&A and Group insurers are on the cusp of a unique opportunity. They must quickly grasp it and move forward swiftly.
Insights allow insurers to create digital playbooks
For insurers to properly position themselves and their products within the new realm of Digital Insurance 2.0, they need to re-envision their offerings from the perspective of the Majesco Digital Insurance 2.0 Product Framework. This framework measures product Intent, Visibility, Breadth, Permanency and Journey specifics. (For more on digital product frameworks, download the report here.)
Using the framework and a playbook model, insurers can paint an effective picture of their unique value proposition, considering it against the backdrop of competitive playbooks. Majesco's report provides examples of playbooks using the framework for up-and-coming life, health and group benefits, profiling Beam Dental, Haven Life, Insurance Menu and Stride. Stride's offering makes a great case for any insurer that might be interested in using digital methodologies to sell traditional products into new markets. They have also created a unique group of service partners to capture the Gig and Sharing economy workers. See a sample of Stride's Digital Insurance 2.0 Scorecard below.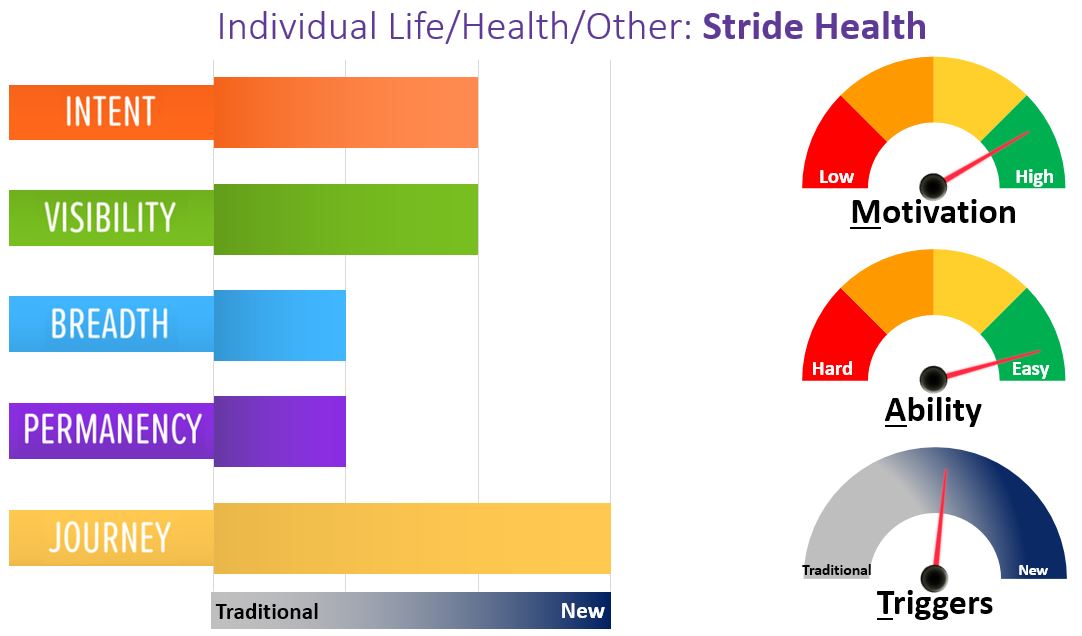 For an in-depth and fascinating look at the playbooks and plays of Stride and other new L&A and Group market entrants, be sure to read Digital Insurance 2.0: Playbooks for L&A and Group Insurers to Win in the Digital Age. It will give you food for thought as your own teams innovate to meet the future.