Blog
Insurance Incumbents Must Capture the Startup Mindset with Greenfields
There is logic in Greenfield development. Greenfields fit new business paradigms by allowing traditional businesses to test, grow and mature at a higher rate of speed. They diversify business investment in much the same way that selecting multiple stocks or mutual funds diversifies personal investments. They also apply a healthy mix of entrepreneurial energy to traditional insurance wisdom.
In our last two blogs, we discussed the opportunities and barriers in Greenfield development. In Gaining First Mover Advantages in a Market Shift, we note that first mover is crucial, because incumbent insurers who used to find their distinctives in channels and brand, are now finding that those distinctives aren't enough. Speed is vital. And in Greenfields Create New Routes to Engage and Capture Customers by Breaking Down Barriers we looked closely at common customer purchase barriers. We examined insurance pressures and how they can be relieved by studying both new digital attributes and new competitors.
Today, we're looking at a key element of Greenfield development — organizational culture and attitude. How important is it for insurers to capture and hone a startup mindset?
Solution success hinges on mindset
Insurers that have determined to launch Greenfields may be tempted to rely on the existing on-premise systems (even if modern) and processes that represent Insurance 1.0, instead of cutting ties and diving completely into a Digital Insurance 2.0 cloud-based, pay-as-you-grow, test and learn platform solution. To avoid this, launch teams should commit to business and operational decisions with a completely new mindset. Why? Because it will avoid sub-optimizing both the new and existing business while opening the new venture up to a greater degree of agility, speed and innovation while providing a greater opportunity for success.
Incumbent insurers must aggressively begin to define their strategy and path to Digital Insurance 2.0, leveraging today's catalytic lever, platform solutions, to reinvent their business model, products and services for a new digital era of insurance. Each organization undertaking this path will evolve differently; but being open to operationalize around its promise as a new business model paradigm acknowledges the role innovation will continue to play as insurers encounter future insurance ecosystems.
Daniel Burrus notes in his book, The Anticipatory Organization: Turn Disruption and Change into Opportunity and Advantage, that technology change is accelerating at an exponential rate, but moving fast in the wrong direction will only get you into trouble faster! The time for plans, preparation, and execution as a leader is now – recognizing that the gap between Insurance 1.0 and Digital Insurance 2.0 is widening and the timeframe to effectively respond is closing. Leadership can ensure that the new mindset takes hold.
What is the startup mindset?
The mindset itself, may defy definition, but it can't defy comparison. As Celent noted in their report, Accelerating Insurance Transformation: The Good, the Bad and the Ugly of Innovation Partnerships, the mindset and organizational readiness gap is significant as reflected in Figure A.[i]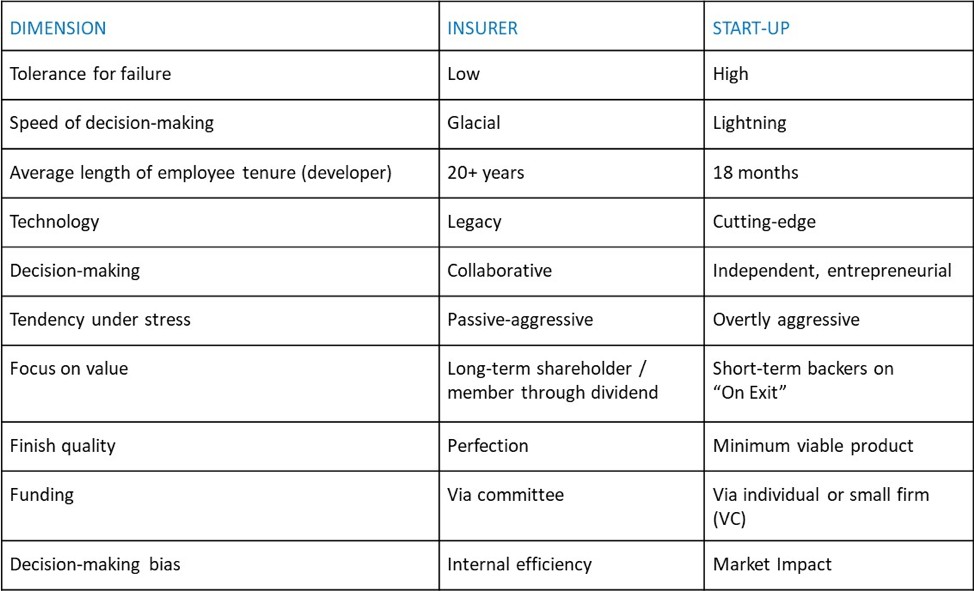 Incumbent insurers setting up a Greenfield must think and operate with many of the start-up attributes that you'll find in the comparison table. This will require C-level commitment to creating a separate business environment, at a minimum, or an entirely different brand that can operate independently from the main company. This is what Haven Life and others have done to successfully get their Greenfield rapidly launched.
Where will this new mindset take us?
There are three practical areas to consider once the startup mindset has been established. These will take advantage of your organization's new ways of thinking.
First, identify the market segment you want to go after, the innovative products you want to offer and the customer experience you want to create. In today's dynamically changing market, there are a growing number of unserved and underserved markets, often driven by new industries, innovative new businesses, technology, and shifting customer demographics. Instead of fighting for the same market share, capture and grow new market share. A startup mindset will give teams less fear about entering untried or untapped markets. But remember, a product is more than just the coverage and price … it includes the customer experience and services.
Second, design your new operational model as a digital model that will optimize the customer journey with a deeper, personalized engagement. This will address and overcome the customer-facing weaknesses of the Insurance 1.0 business model described earlier. It should be a low risk model that leverages technology in a "pay as you grow" that rapidly adapts to the market and provides speed to value including speed to market, speed to implementation and speed to revenue. The days of multi-million, multi-year, capital investment in infrastructure and systems is no longer viable in a market defined by agility, speed and innovation. A Greenfield development that successfully accomplishes this under the umbrella of an experienced insurer, will be able to turn this Digital Insurance 2.0 experience into real value for the future growth of the business.
Third, select a solution platform that provides insurance carriers the ability to outperform with innovative digital capabilities on demand. The platform will accelerate innovation, support a "test and learn" environment, leverage new and growing ecosystems, provide scalability for growth and deploy in weeks or months rather than years.
In today's world, change and the competitive environment is continuing to intensify and accelerate. Insurers taking a "wait and see" or "fast follower" approach must realize that Digital Insurance 2.0 is just the beginning. The catalytic effect of platform solutions in the shift to Digital Insurance 2.0 is rapidly evolving, gaining momentum and laying the groundwork for future reactions. But this is just the start. Will the next catalyst be blockchain or some other trend that will propel us toward Insurance 3.0? Will the organization have the startup mindset that it needs to continue perpetual innovation and model transformation?
While it took 30+ years to transition from Insurance 1.0 to Digital Insurance 2.0, the pace of change will likely drive Insurance 3.0 to emerge within the next 5+ years. What this next era entails is yet to be seen. But, for insurers still in Insurance 1.0, getting from there to Insurance 3.0 will likely be insurmountable. As Darwinism asserts, only the fittest will prosper in a competitive environment.
Each and every day, insurers must recommit to Digital Insurance 2.0 business platform and ecosystem strategies and a journey that will enable their next wave of growth and value creation. Insurers' abilities to adapt, innovate, test and learn while they rapidly move to Digital Insurance 2.0 will likely define their future.
For a deeper look at startup approaches and Greenfield concepts, be sure to download Majesco's latest thought-leadership report, Greenfields and Start-ups: Accelerating and Paving the Path to Digital Insurance 2.0.
[i] Fitzgerald, Michael, Accelerating Insurance Transformation: The Good, the Bad, and the Ugly of Innovation Relationships, Celent, January 25, 2016.