Blog
Digital Playbooks Allow P&C Insurers to Move from Planning to Market Doing
Divide your day mentally. How much of it is spent fighting fires? How much time do you use in simple administrative duties? What part of your day is given to ongoing project management? How much time do you allot to planning and strategy?
If you're like most insurance executives, you would like to spend more time in planning and strategy, but the "day-to-day real work" is crowding out the time you need for reading, brainstorming and innovative thinking. Many organizations' approaches to developing products and services are embedded in "traditional thinking and assumptions," not in innovative thinking, and therefore they are hindered in innovation that is at the core of Digital Insurance 2.0.
In our recent 2018 Strategic Priorities Report, Consumer Report and SMB Thought-Leadership Report, we highlighted the growing gaps (customer expectations, customer demographics, business – IT, large – mid market, and knowing- doing) that are widening the chasm between Insurance 1.0 and Digital Insurance 2.0, placing insurers at risk. Within the thought leadership and recent blogs, we have suggested ways insurers can utilize playbooks to help them formulate their own strategy to move to Digital Insurance 2.0 to ensure growth, innovation and success. Playbooks provide both a method and a guide for taking action to close the gaps.
Digital Insurance 2.0 playbooks are designed to provide a path from Insurance 1.0 to Digital Insurance 2.0, focused on new products and services that align to customer expectations and needs in a way that shifts from something that is sold, to something customers want to buy. In Majesco's thought-leadership report, Digital Insurance 2.0: Playbooks for P&C Insurers to Win in the Digital Age, released this week, we not only discuss the development of digital playbooks, but we also examine the playbooks of five recent Digital Insurance 2.0 entrants to the P&C market.
Playbooks, and the play calling that goes with them, are critical for insurers as we continue to rapidly shift from Insurance 1.0 to Digital Insurance 2.0. They provide strategic direction that fits with current or projected circumstances. When strategists within the business examine the industry, its market segments and demographic trends, they can apply their plays more effectively to capture new, unserved, underserved or additional market opportunities. Those without playbooks and plays will find themselves scrambling from priority to priority, instead of confidently executing their strategies to earn the win.
Each day we see examples of Digital Insurance 2.0 emerge within the P&C market. New products are introduced, new channels are established, new services are offered, new technology and data sources used, new business models launched, and much more. It's a whole new game. Digital technologies, new competitors (with vastly different business models, products and economics), and P&C customers (both consumers and business owners) are rapidly embracing Digital Insurance 2.0 approaches. They are open to new, innovative products and services, and they are poised to disrupt, disaggregate and dislocate the insurance industry's traditional Insurance 1.0 business model. The Insurance 1.0 model, based on strong brands, agent channels and portfolios of traditional products, is operating with an outdated playbook to compete in the new game for the digital age.
What, specifically, do new playbooks address?
A P&C insurer playbook can be created and used in any number of ways, but some key ingredients should be captured to give an insurer a greater understanding of how its "play" will fit the customer and market. These would include:
Customer pain points
Why are some products and services suffering from low customer engagement?
Where are the gaps between what customers want and what Insurance 1.0 is able to deliver?
Do the products align to the shifting market of new businesses, new economies and more?
Are P&C insurers fostering real loyalty with customers or are they temporarily in a precarious position where customers want to switch, but inertia is keeping them in place?
Incumbent disruption
Is the complexity of traditional insurance an Achilles heel for innovation and growth?
How will an insurer's playbook help it defend against competitive startups and greenfield developments that create a simple and satisfying product and customer experience, from quote to claim, and beyond?
Can the playbook keep the "defense" stable, while building a ground-breaking new "offense"?
Digital capabilities
Adding a "digital technology or two" to a legacy framework may be necessary and can buy an insurer some time, but it won't allow the insurer to plug and play new capabilities rapidly enough to be responsive to customers' expectations or the competitors racing to meet them. Property and Casualty insurers especially, have a real opportunity in front of them to take advantage of digital technologies from sensors, new sources of data, drones, cloud, cognitive and AI. Can Business and IT overcome their own gaps to implement digital-first technology and operations in a collaborative environment that fits current P&C demands, such as protective home and business environments? A playbook will give insurers a clear link between plug and play transformations, test and learn environments and rapid results.
Decision behavior
Traditionally, most insurers often set out to make product and service changes without ever considering customer needs, motivations or journeys. Majesco has highlighted how the Fogg Behavior Model provides input to a playbook, using Motivation, Ability and Triggers as indicators of potential customer adoption of new insurance business models, shifting them from "being sold" to buying insurance.
Product Design — is about current trends
A playbook is only as good as its design for the current season. For this reason, Majesco researched insurance products and trends over 30 different digital attributes covering six broad categories, asking customers (both consumers and business owners) across all generational groups what their interest was in these attributes. A playbook can utilize those attributes as inspiration for new products and services that are relevant and desired. Are you brainstorming and designing new products and services without considering how current trends will affect your end game?
The goal of the playbook is to implement and support any play that an insurer deems viable. The plays in your playbook can be evaluated for their potential customer impact by using the new Majesco Digital Insurance 2.0 Product Framework, which is discussed in more detail in the Digital Insurance 2.0: Playbooks for P&C Insurers to Win in the Digital Age report. We look at the framework across five dimensions:
Intent of an insurers products: Indemnification versus risk prevention, avoidance and reduction.
Visibility and accessibility of insurance: A distinct, stand-alone product versus an "invisible" or embedded product within other products, services or an ecosystem.
Breadth: Broad coverage of multiple risks or items vs. specific coverage of a risk, item or event.
Permanency: Continuous coverage for a contractual period of time vs. variable, episodic periods based on demand or need.
Journey: Focus on customer journey, needs and expectations vs. the internal operational silos across product, function, service and organization.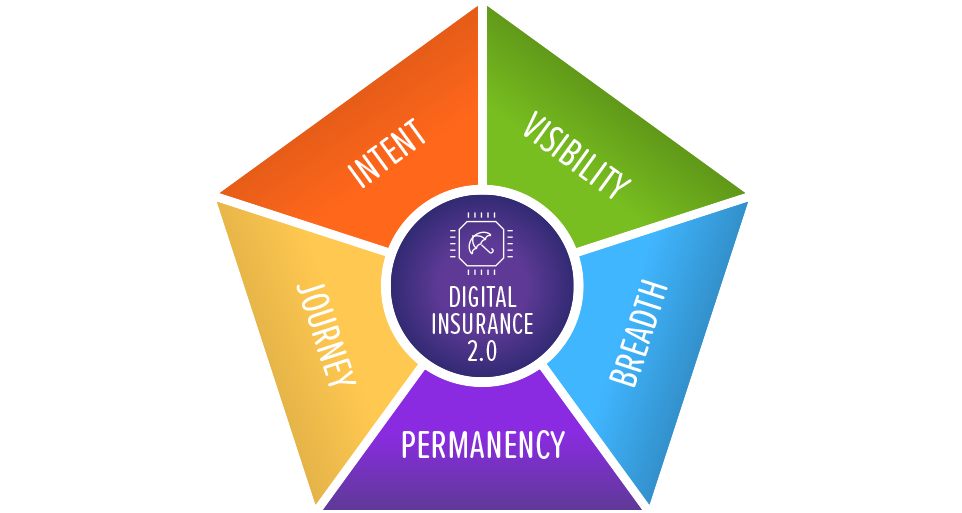 Using the criteria and framework, we assessed new business models and products to see how innovative companies are changing the game to create more engagement, tailored solutions and perceived value that is desired by a new generation of insurance customers.
Based on those we evaluated, it's clear there is great effort, design and focus on using data and technology to simplify insurance – appealing to the ability component of the behavior formula. Some of these companies are also venturing out to address and improve upon the motivation and trigger components. The business models and products that are able to find success in these areas will likely be those that truly transform insurance, moving from something that is sold to something customers want to buy.
As your organization develops your own new products and business models, or evaluates new competitor offerings, we encourage you to use the Majesco frameworks and playbooks to see how your "plays" stack up against the competition. Furthermore, as you develop your new products, we encourage you to consider the 30 attributes across the 6 categories to spark your innovation. What combination of attributes will form the next innovative product to capture unmet market needs? What new attributes can you create to meet and engage customers? Most importantly, will these new products and business models be simple, motivating and engaging for your target customers?
For an in-depth understanding of how playbooks can be utilized to measure competitive efforts as well as ideas for brainstorming products, services and frameworks for the future of your own organization, be sure to download and read Digital Insurance 2.0: Playbooks for P&C Insurers to Win in the Digital Age.