Blog
A New Digital Platform for a New Era of Insurance
The definition and the nature of a transaction is rapidly shifting throughout all industries. Consider auto purchases, for example. Auto financing companies are currently scrambling to figure out how to best build and use channels that fit with the modern auto purchase process — much of which is happening online and not in the showroom finance office.
The definition of who is in insurance is also changing. Just consider the recent move by Credit Karma. In a recent release the company announced it will offer its members quick and easy auto insurance quotes by leveraging driver and vehicle data that Credit Karma's existing auto offering directly pulls from the DMV and other sources. More than 8 million of their members have synced their cars with this service, which helps them save money on auto loans, and provides information on the value of their car and recall notifications. Credit Karma now plans to combine the data pulled for this offering with data from credit bureaus and public insurance rate filings to provide members with auto insurance quotes using just a few taps or clicks instead of the traditional quote process requiring the manual entry of 30-40 data fields.[i]
Does this sound familiar? Digital technologies are breaking down barriers – both within processes and between traditional industry boundaries – by streamlining any process that traditionally took "too much" time or did not align to the new needs and expectations of an increasingly digitally empowered customer.
This week, Majesco released a new thought-leadership report that looks closely at how these types of process and industry shifts are driving the need for platform-based architectures. For deeper insights, you can download and read the report, A New Business Model for a New Era of Insurance.
The use of big data, artificial intelligence, and cloud computing is changing the nature of work and the structure of the economy.[ii] This is where a digital platform economy is emerging. Companies such as Apple, Amazon, Netflix, Facebook, Google, Salesforce, and Uber are creating online structures that enable a wide range of activities. They have opened the doors to radical changes in how we work, socialize, create value in the economy, and compete for profits and, most importantly, customers.
New startups like Lemonade, Slice, ZhongAn, Ladder, Root, Trov and others, are embarking on Digital Insurance 2.0 business models using digital platform capabilities and ecosystems that exploit untapped markets and address under- or unmet needs that strengthen customer relationships. Platform and open API-based business models provide these innovative companies speed to value, unique customer engagement, a test and learn platform for minimal viable products, and value-aligned optimized costs.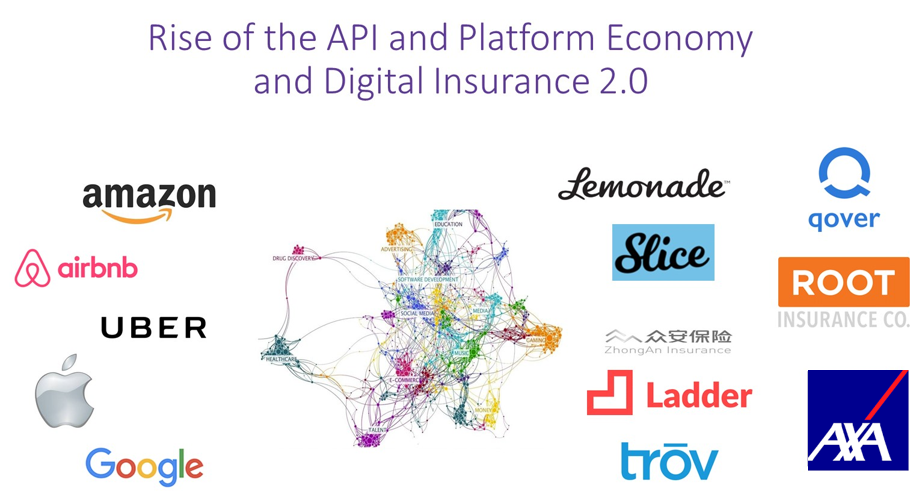 In last week's blog, Platforms Define Digital Insurance 2.0, we discussed the reasons and motivations that insurers should be greatly interested in platform-based architectures.
"…future growth will reside with a new generation of insurance customers who demand innovative insurance products and services and new business models that reflect a new marketplace, economy and an ecosystem of partners. That will require hopping on to platforms that are mandatory for Digital Insurance 2.0."
Cloud-based business platforms are part of a new era of innovative impact and industry upheaval. They make sense, in light of all of the benefits they can provide to insurers. They can run key business applications and services in order to match the reality and requirements of the current business environment. Today's business environment is characterized by constant disruption, heavy competition and growing market demands. InsurTech entrants are embarking upon business and technology initiatives that exploit untapped markets and address under- or unmet needs.
Many insurers are still in midst of legacy modernization of their core systems for strengthening their back-end processing capabilities. Some of these initiatives will fall short without the digital transformation that will provide meaningful benefits needed to win and retain customers. The traditional approach of building portals on top of back-end systems that are on-premise is only a quick-fix that does not help digitalize insurance products, operations and services.
Incumbents with outdated technologies are at a huge disadvantage because they are unable to respond with the flexibility, agility and speed that has become the hallmark of these digital natives.
The Insurance Technology Shift
Core systems lie at the heart of every insurance operation. However, these systems have been built around the traditional Insurance 1.0 business model and a pre-digital age technology architecture. The Insurance 1.0 model and correlating value chain has operated across a number of functional silos creating a fragmented customer experience because each of these silos has unique characteristics and is organized around its own KPIs.
For example, underwriting / risk management is primarily focused on risk assessment, underwriting quality and booking of premium. Claims is focused on claims management, fraud detection, leakage reduction and processing turnaround time. Typically, each of these functions operates independently with limited organizational integration.
While this organizational model and IT system landscape was effective for Insurance 1.0, it is not effective for Digital Insurance 2.0. The painful and expensive business and IT modernization projects over the last decade, coupled with the layers of portals and complex integrations to these core systems to improve agent and customer experience, do not align with new market dynamics of Digital Insurance 2.0, placing many at risk to survive.
To arrive at insurance's digital destination, a new technology architecture is needed. According to Celent's reports, The New Recipe that is Changing Insurance,[iii] published in February 2018 and The New Architecture for Core Systems,[iv] published in April 2018, the adoption of API and microservices architectures coupled with agile and customer-centered design techniques are rapidly shifting insurance technology solutions. The new architecture for insurance applications and solutions will be built with microservices which can be exposed through open APIs and will sit on and make use of the cloud infrastructure as a service (IaaS) and platform as a service (PaaS) services.
These solutions will enable insurers to be competitive, improve cost structures, create customer-focused solutions and, most importantly in today's fast paced world, address the need for speed. Celent predicts that insurers can achieve an average cost savings of 60% to 70% through expansive adoption of these techniques, while redefining speed from years to months. We are now beginning to see this happen in the industry.
Given this, one of the best alternatives for insurers comes from a value-driven "next gen technology" that transforms modern core systems into platforms that leverage broad ecosystems and technology innovations including microservices, API, cloud computing, artificial intelligence, machine learning, and new data sources. Insurers can shift from being the 'owners of complex systems' to become the 'owners of greater technical agility and flexibility, digital fluency, innovation and speed to value' required in today's pace of change. These new platform capabilities fit the new era of insurance at the same time that they fit insurers' need for new business models.
Innovations Meet Transactions and Expectations
Foundational and fundamental elements of the insurance business are changing and will require major adjustments in order to survive and thrive. The increasingly rapid pace of InsurTech growth and invest­ment, adoption of new technologies, growth of new startups and greenfields, shifting customer needs and expectations, and innovation is creating a continuous era of change and disruption.
A crucial element of this disruption is a broader cross-industry shift to the API (application program­ming interface) and Platform economy. The API and Platform economy consists of a group of business models, channels and technology solutions that leverage an ecosystem of partners, data sources and capabilities to create new products and services, connect everything and, most importantly, create new customer experiences.
In our next blog on platforms, we'll look more closely at how these integrated components and capabilities will meet an insurer's need for innovation as a part of a new platform model. For a preview, be sure to download and read A New Business Model for a New Era of Insurance.
[i] "Credit Karma Makes Significant Move with New Insurance Experience," Business Wire, October 2, 2018
[ii] Kenney, Martin and Zysman, John, "The Rise of the Platform Economy," Issues in Science and Technology, Spring 2016
[iii] Fitzgerald, Michael and Scales, Tom, The New Recipe That Is Changing Insurance, Celent, February 12, 2018
[iv] Beattie, Craig and Light, Donald, The New Architecture for Core Systems: What It Is and How Quickly Vendors Are Adopting It, Celent, March 22, 2018