Blog
Shifting Priorities Expand the Business-IT Gap
As an industry, we have talked about the business vs. IT gap for decades. Over the last decade, the gap seemed to decrease as we modernized our legacy systems that enabled the business to more rapidly make changes without depending on IT. However, the gap is widening once again, driven by the need to respond more rapidly to growing and shifting market opportunities. Closing the gap will allow aligned insurers to shift from an Insurance 1.0 business model, to a Digital Insurance 2.0 model.
In order to examine insurance business gaps that could detrimentally impact growth, Majesco conducted a survey of insurance operations, large and small. We gathered input from executives crossing all portions of the business, and we looked carefully at their priorities, to determine if there was alignment throughout most organizations. You can read about our analysis in our most recent thought-leadership report, Strategic Priorities 2018: The Digital Insurance 2.0 Gap.
What we found was that Business and IT are certainly each aware of internal and external trends and challenges, but business executives place a higher priority upon strategic initiatives that focus on growth and innovation.
Furthermore, business leaders are more inclined to be concerned about the growing array of business and technology trends that are redefining the industry, often through new customer expectations, demographics, emerging technologies, and InsurTech competition. In stark contrast, IT is more concerned about the budget and security, reflecting the challenge of keeping the existing business running while building the business for the future, often within the same budget parameters.
From a planning perspective, the differences in priorities given to strategic initiatives highlight the growing gap between the Business and IT. In particular, Business has higher priority on 78% (11 of 14) of the strategic initiatives included in our survey, of which 42% (6) could be considered significantly higher priorities (Figure 1). These areas include developing new markets, product innovation, channel expansion, accessing new capital markets and integrating emerging technologies into new products, services or processes — all areas that underpin Digital Insurance 2.0.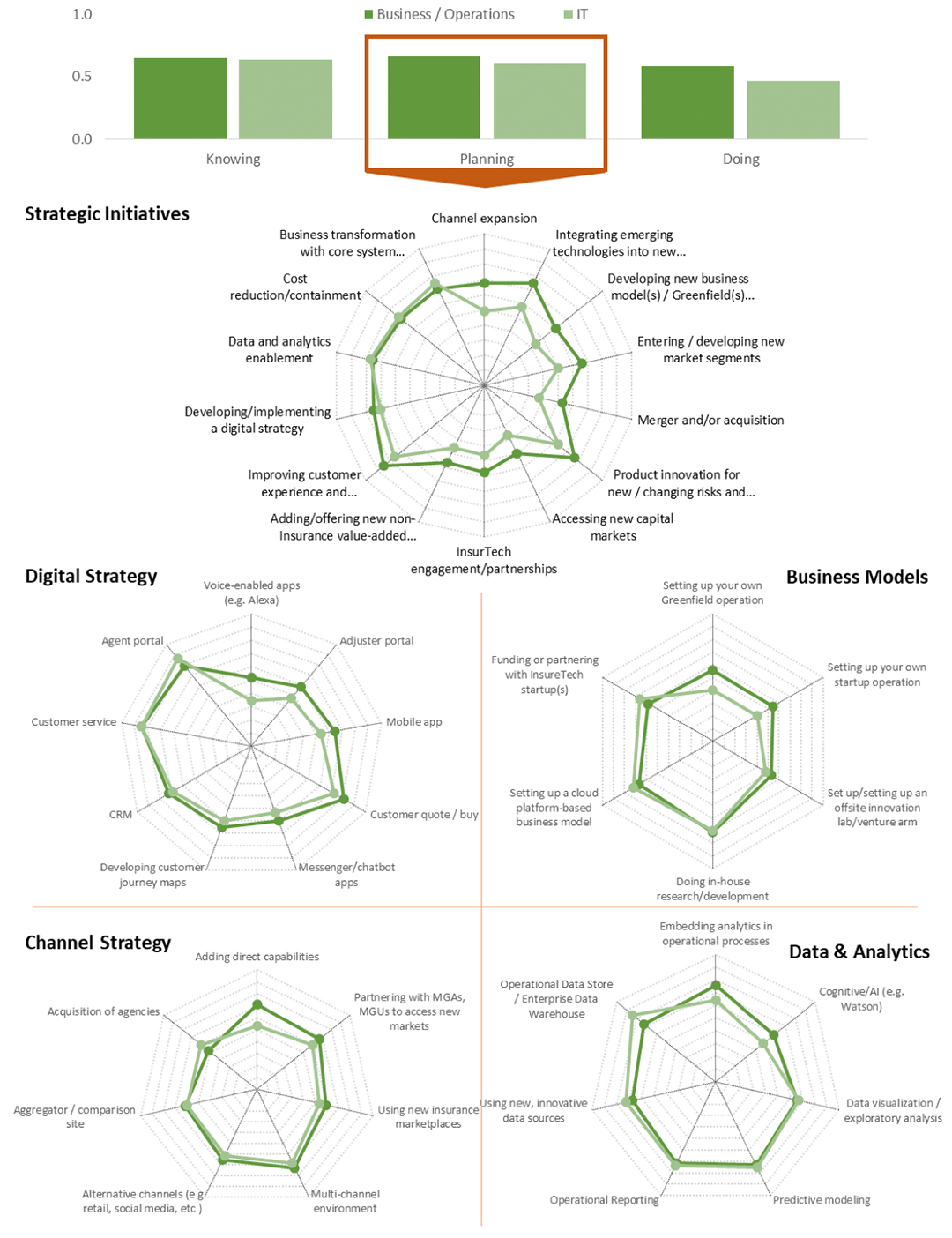 Further highlighting this gap are the groups' Digital Strategy priorities. Business ranks 67% of Digital Strategy areas higher than IT. "Traditional" digital capabilities of customer quote/buy, customer service and agent portal are similar in priority for both Business and IT. This alignment across these areas may be a positive aspect of new roles within the organization, such as the Chief Digital Officer or the Chief Customer Officer — roles that are being filled by business leaders rather than tech execs.
More alignment can be found within Channel Strategy. Both IT and Business are firm believers in establishing a multichannel environment. However, business leaders have higher interest in adding direct capabilities, partnering with MGAs/MGUs, as well as considering alternative channels like retail or social media. From a Data and Analytics strategy view, the Business is highly interested in embedding and operationalizing analytics while also developing cognitive / AI capabilities within the business. In contrast, IT places higher priority on ODS/EDW than Business, likely recognizing the need to capture and manage growing numbers of data sources.
Interestingly, from a business model perspective, IT places a slightly higher priority on funding or partnering with InsurTech startups and setting up a cloud platform-based business model. The Business has higher interest in setting up an offsite innovation lab and setting up a greenfield or startup operation, though these are lower in overall priority relative to the other business model strategies.
Bringing together these two views will be critical to defining and building Digital Insurance 2.0. In response to the Business – IT gap, we are seeing a shift in decision making with regard to systems and technologies, with many of these decisions moving to Business departments from IT, particularly as many systems move to the cloud, where there is less dependency on IT. IT still has a critical role within the organization, but must rapidly shift to partnering and enabling the business in other ways.
Where the Business – IT gap is most pronounced is within the area where we measured "Doing" — the real activities that are either being built or have been built in direct response to trends and challenges. The Doing responses are the "proof" that an organization has gone beyond planning.
Within the Doing sphere, Business leaders show a greater understanding and level of response to all 11 business trends covered in the survey, reflecting a 100% gap between Business and IT. In particular, IT is "out of touch" with significant external market shifts including demographic changes, the Gig and Sharing Economy, Amazon-like customer experience expectations, the growing use of marketplace exchanges, new-age insurance products and business models, and customers' increasing use of digital channels across all aspects of their lives. Figure 2 illustrates this gap and points to the significance of the market shifts. It shouldn't surprise us that the Business is thinking from 30,000 feet, attempting to look forward and anticipate trends. If IT isn't on board, however, it hinders their ability to effectively support the business.
In contrast, both Business and IT show relatively common responses to technology trends impacting the industry, with drones being the only area where IT has a higher response. Despite the overall consistency, the level of response is not very strong for either group, just reaching/slightly exceeding the "neutral" level – halfway between "no focus on this" and "actively responding", raising potential concerns on whether incumbent insurers will be able to effectively embrace these technologies quickly enough as they continue to become mainstream.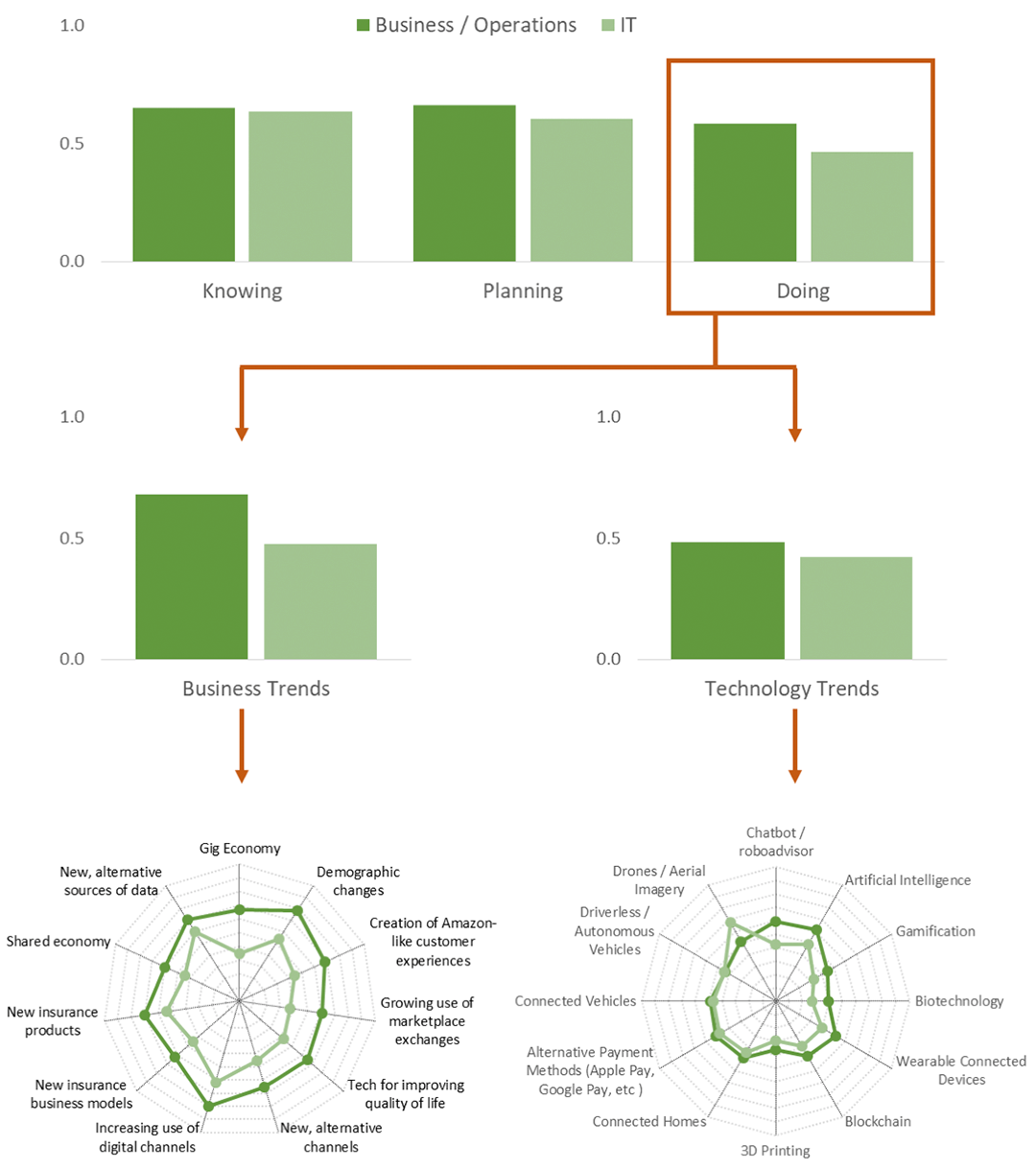 The gaps between IT and Business pose critical issues to which insurance leadership must respond. Both Business and IT leadership must agree to transform the way their organizations interact and collaborate to accelerate their shift to Digital Insurance 2.0.
With the increasing emphasis on agility, innovation and speed, the eternal gap between Business and IT must be called into question. While maintaining the status quo is easier, it is placing the future of the business at risk. To shift to Digital Insurance 2.0, Business and IT leaders must work together and begin to differentiate the business through test and learn and rapid delivery of innovative business solutions leveraging both internal, partner and ecosystem expertise, relationships and technologies.
Improving communication and implementing a cross-functional team structure would be steps in the right direction. This would quickly align all three categories, Knowing, Planning and Doing — and would help IT to grab onto business concepts earlier. It would also assist the business to understand the constraints of IT, empathize with security and budget issues, and make prioritizations that fit the business, including the additional allocation of resources where necessary. All of these efforts will unify people, technology and processes, closing crucial gaps and fast-forwarding insurers into Digital Insurance 2.0.
For a deeper look at what other insurers are thinking and planning and doing, be sure to download Strategic Priorities 2018: The Digital Insurance 2.0 Gap.