Blog
Modern Mod Squad — The Times Are Changing: How Platform Function Fits the Future of Insurance
For those who remember the TV show Mod Squad which aired from 1968 – 1973, you will remember how "cool and cutting edge" it was! Starring Michael Cole as Peter "Pete" Cochran, Peggy Lipton as Julie Barnes, Clarence Williams III as Lincoln "Linc" Hayes, and Tige Andrews as Captain Adam Greer, it was described as the hippest and first young undercover cops on TV. The show took three rebellious, young social outcasts and had them work as undercover detectives. They set a new standard for TV crime shows — reflected in the hoard of awards they won — and in the many who tried to replicate their success or reference them over the years.
One of the most iconic lines regularly used by Captain Greer was "The times are changing." Well this statement is more relevant than ever in 2021!
Just like the Mod Squad, insurance systems have been defined since the 60's and 70's when insurance solutions were introduced on the mainframe as tools or operational components. These insurance systems and processes assisted us with automating the tasks of insurance, helping insurers to maintain order and balance while completing the value chain for customers.
Over the years, however, insurers frequently added or subtracted capabilities that were deeply attached to the core system or modified the system to suit a new purpose, making a "mod" to the core. The issue is that for decades, mods have often been hard-coded, inflexible pieces of code that have become dated over time creating significant legacy debt, preventing companies from rapidly adapting to change, taking advantage of new market opportunities and increasing overall cost of ownership.
Fast forward to the platform era, and there is power in modification if we consider mods, not as tiny enhancements to our current functions, but as game-changing enablers. What if we envision a different kind of mod — a microservices and no code / low code style of enhancement? What if the new mods are more flexible, swappable tech modifications on top of cloud-native ecosystem-capable platforms? Instead of hard coding, they are pluggable and they can supercharge your core capabilities. They can allow organizations to reinvent themselves, to do things that were previously impossible. In some ways, plug and play digital microservices are the future of mods across many technologies.
Most importantly, these kinds of mods can open markets. This is the future of insurance. Insurers will stay relevant by using digital platforms and ecosystems to modify what they already do well, constantly changing to meet customer and market needs. As they add digital capabilities, they will be digitally maturing the organization, getting better and better at incorporating new, transformative technologies.
In Majesco's most recent thought-leadership report, Insurance Platforms: The Digital and No Code / Low Code Platform, we look at how crucial platform change is to the insurance equation. The simplifications and improvements in platforms are driving insurers with a logic and functions that fit the future, including:
Costs that better align with testing new programs and reaching untapped markets.
No code / low code capabilities that enable business users to take on many modifications and changes.
API-first designs that allow the plug-and-play of the best and most useful functions across internal and external partners.
A new realm of digital accessibility to allow for greater innovation, where "the sky is the limit" and insurers are flexible and free to adapt to trends and market shifts.
Leaders are positioning their systems and processes to fit the future of insurance.
Visionary leaders see the market, customer and technological trends as a many-fold opportunity for insurance — and are preparing to use new sources of data, reach new market segments, offer innovative new products needed by customers, create exceptional customer experiences, leverage new channels and more. KPMG's recent report, 2020 CEO Outlook, found that insurers' top priorities were focused on: digitization of operations (74%); new digital business models (70%); the creation of a seamless experience (75%); and a new workforce model augmenting people with AI (66%).[i]
Majesco's research echoed a similar sentiment and indicated that leaders are moving forward with a cloud-based no code / low code platform utilizing microservices and open APIs (64%); are envisioning and experimenting with new digital experiences (68%); and are focused on digital ecosystems and partnerships (45%) that will allow them to stay out ahead of the trends and the marketplace.
Constantly evolving technology, customer expectations and products are forcing the insurance industry to reevaluate and rebuild their business models and business processes in order to survive in an increasingly competitive market. Digital platforms with no code / low code capabilities become the game-changer. Companies adopting these digital platforms for their business and operating models are gaining a decisive edge over competitors and accelerating their digital maturity as reflected in Figure 1. Companies must develop digital capabilities so they can create unique and personalized solutions that help them adapt to a world in a state of rapid flux.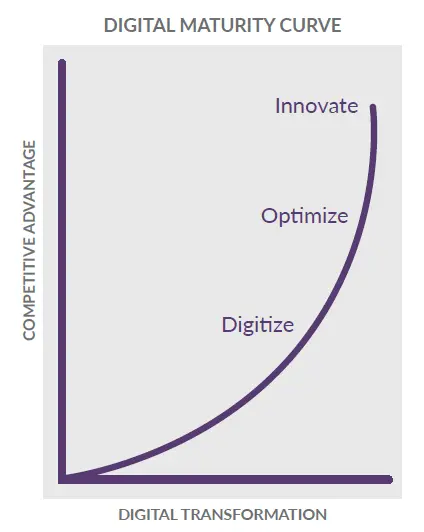 Digital transformation for insurance is a journey with three steps of digital maturity – Digitize, Optimize, and Innovate – to build sustainable, competitive advantage in today's digital age.
The Multiplier Effect — Connecting with Other Platforms and Ecosystems
With the breadth and velocity of change in technologies, customer risk needs and engagement expectations, it is nearly impossible for any insurer to possess, nor afford the acquisition of, the resources and capabilities needed to keep up with the changes, let alone anticipate and stay ahead of them. A platform-based insurance business model that leverages platform technologies and a digital ecosystem of diverse third-party partner services completely removes this barrier.
Digital ecosystems offer constant touchpoints with customers in simple ways by plugging into capabilities that enable cost-effective growth while bringing insurance coverage closer and more personalized to the customer. Insurers can choose from a variety of vetted partner apps and plug into them via APIs, and with democratized programming via no code / low code, business and IT users can create and modify apps to create new user experiences and offerings.
With this powerful combination of sources for creating and configuring novel applications, insurers can quickly and easily create customized MVP products, services, and experiences that they can test with different market segments and quickly launch and scale if successful, or iterate and test again if not.
Making Insurance Platforms "Ecosystem Ready"
Another important benefit of the insurance platform is that it greatly enhances an insurer's ability to "play" within other, broader ecosystems beyond the insurance vertical. This creates a tremendous opportunity for both penetrating existing markets and reaching or creating brand new markets. It unleashes the potential and opportunities for insurers to rethink their business models from the outside-in. At the same time, it offers an opportunity to embed insur­ance within the assets, activities or products of other ecosystems, creating new market opportunities for growth.
Swiss Re's report, Digital ecosystems: extending the boundaries of value creation in insurance, noted that these ecosystems can be structured into broad clusters, such as "Home & Stay" and "Lifestyle" on the B2C side, and "Build/Produce" and "Deliver" on the B2B side. Within these clusters, finer-grained domains can be defined, like "Mobility" or "Transport & Logistics." Insurance fits well as a risk-mitigation component in many of these ecosystem domains, such as mobility, healthcare and housing.[ii]
Insurers can plug into these ecosystems in different ways. Using mobility as an example, insurers could create one unified policy to cover whatever mode of transportation a customer chooses, instead of separate policies for each. As another example, an insurer could provide risk protection services as a component of an ecosystem that provides a one-stop-shop for all of the "jobs" a customer needs to get done across their mobility customer journey…"a single window of interaction that eliminates points of friction between the different participants of the ecosystem."[iii]
Majesco's primary research with auto and life insurance customers confirms the market potential of looking at customers through an ecosystem lens and developing holistic solutions that satisfy a broad set of related needs. For example, in traditional thinking, insurers thought of the mobility journey in narrow terms: insuring one or more vehicles owned or leased by one of their customers and then ensuring renewal. Traditional life, health and voluntary benefits insurers focus on narrow (albeit very important) slices of financial protection for their customers' lifestyles.
To the customer, however, mobility and health/wealth/wellness cover a much broader range of needs, interests, expectations and tasks. Currently, a customer must go to multiple, disparate places and perform numerous tasks to fulfill their mobility and lifestyle needs. In our research we identified 19 mobility-related needs and 14 needs across life, health, wealth and wellness, and asked customers how useful it would be to have a single source (an app or portal) to access information and complete the tasks necessary to fulfill these needs. In both cases, the individual needs fell into 5 broader groups, all of which had high levels of interest among all generations, as seen in Figure 2. Gen Z and Millennials saw enough value in these all-in-one services that 40% and 38% said they would pay $10 per month for the mobility and lifestyle app, respectively.

Future business platforms and ecosystems will redefine the business model with an outside-in view and a focus on continuous customer engagement. Therefore, creating and participating in ecosystems will be crucially important for insurers as they plan their paths to the Future of Insurance.
Insurance Digital No Code / Low Code Platforms in Action
Even if insurers wish to employ no code / low code digital platforms, they may not be able to envision how this will interact with their current plans for development. Majesco has created a path that surmounts this issue by creating a flexible methodology for first steps.
Insurers can start at any point on the digital maturity curve – from focusing on today's business or by creating the business for the future. Regardless, having a single digital no code / low code platform with rich insurance content and a robust digital ecosystem of partners to enable this journey across a wide array of business scenarios is crucial for success.
Majesco Digital1st® Insurance is a next-generation digital no code/low code platform to accelerate an insurer's digital journey. Majesco built Majesco Digital1st® Insurance from the ground up to provide ONE platform to enable organizations to pursue relentless innovation with speed and agility as they accelerate their journey on the digital maturity curve. We have worked with a large range of customers who are using Digital1st all three steps of the digital maturity curve, rapidly bringing a variety of new products, services and processes to market across the different areas of digital transformation – digitize, optimize and innovate.
Yes .. the times are changing! The question is … are you changing with the times? Are you accelerating your path to digital maturity? Are you ready to fit the future with low code / no code digital platforms?
Read about companies that are using Majesco Digital1st® as their platform to digitize, optimize and innovate by downloading Majesco's most recent thought-leadership report, Insurance Platforms: The Digital and No Code / Low Code Platform.
---
[i] "KPMG 2020 U.S. CEO Outlook," https://home.kpmg/us/en/home/insights/2020/09/us-ceo-outlook-2020.html
[ii] "Digital ecosystems: extending the boundaries of value creation in insurance," Swiss Re Institute, January 2019
[iii] ibid