Blog
DIY Digital Playbooks for Life & Annuities
Technology and marketing are strange, but effective partners. Technology seeks to be solution-based. "What business need can we meet with technology?" Marketing is financially and creatively-based. "How can we attract and keep more customers?"
The history of the partnership in insurance is a story of silos. Marketing would come to the Business and say, "If we develop this product, we could capture market share and grow." The business would then ask IT, "If we develop this product, can you implement and support this product?" IT would confirm how it could be done and how much it would cost to do it using the existing technology. This was the Insurance 1.0 model.
Fast forward to today. Using the Digital Insurance 2.0 model, ideas can come to the table from anywhere, including customers. Marketing wants to grow market share and improve the purchase and service experience. Actuarial and Underwriting are aware of new data sources that can change the scope of offerings. IT has ideas on how to pull these together with technology. All of the areas and views together represent the opportunity to create new business models and product offerings that they can launch and test in a rapid manner. To arrive at the ideas, they can pull from hundreds of excellent new concepts, models, technologies, trends and data. What used to start as an idea within Marketing can now begin in a sort of test kitchen with a comprehensive list of ingredients. And in today's individual L&A market that has seen decades of decline, this is more important than ever!
In Majesco's recent thought leadership report, Digital Insurance 2.0 Playbooks for L&A and Group Insurers, you can get a glimpse into both models and lists of ingredients that you can use as you brainstorm new products and new approaches to distribution.
A new approach requires new capabilities — and frameworks for understanding.
One of the most exciting areas of insurance is new product development, followed by revenue growth. But before an insurer can build the right products, it needs to establish a framework that will allow it to understand both the scope of the market opportunity and the idea or concept that will meet that opportunity. A digital playbook is designed to provide a path from Insurance 1.0 to Digital Insurance 2.0, focused on new products and services that align to new customer expectations and needs. This requires insurers to shift from producing products that are "sold" in traditional ways, to products that customers seek to buy, because they are so relevant in fitting current customer needs, methods of research, and ways to transact business.
Two frameworks can help insurers align to Digital Insurance 2.0, resulting in effective playbook development.
The Fogg Behavior model, which helps insurers understand the difficulties customers have with Insurance 1.0 and how new business models are fixing them.
A Digital Insurance 2.0 Product Framework, that categorizes customer-facing components of new business products and models, so that they can be compared.
The Fogg model, in short, translates human purchasing behavior into three components: Motivation, Ability and Triggers. Optimally, these need to be in synch for a purchase to occur. So, as the playbook is being built, the business should be keeping track of all three. For a more in-depth description of Fogg concepts and their application, be sure to download the report.
The Digital Insurance 2.0 Product Framework looks at five dimensions of an insurance product: Intent of the Product, Visibility and Accessibility of the Product, Breadth of Coverage, Permanency of Coverage and the Customer Journey.
Below is an example outline that any insurer can use to develop and fill their own high-level digital product framework as a precursor to developing a Digital Insurance 1.0 model playbook.
Digital Playbook Framework Questionnaire
Business Model Focus

What market segments are you focused on? Are they new, existing, under-served or unserved segments?
What potential products do they need and want?
What do you see as your key features and differentiators within the market?
What are the hurdles inherent with providing your product?
What are the hurdles customers have in finding, researching, understanding and purchasing your traditional products that may be overcome with a new model?

Product Characteristics

What is the intent of the product? Is it indemnification or risk prevention, avoidance, or reduction, or both?
Describe the product's visibility. Is this a standalone product or "invisible," possibly embedded within other products, services or an ecosystem?
Describe the breadth of coverage. Does it cover multiple risks or items or is it specific coverage of a risk, item or event?
Describe the product's permanency. Is it continuous coverage for a contractual period of time or variable, episodic coverage based on demand or need?
Describe the customer journey, needs and expectations.

Impacts on customer behaviors

Ability: Does the product/service have special capabilities that streamline and simplify processes for customers?
Motivation: What, specifically, will motivate prospects to purchase and continue to engage with it? List any and all motivators.
Triggers: Does the product contain triggers that will prompt users into action that will enhance their experience and/or mitigate risk?
Sample Frameworks
The next step in the playbook process is to take these answers and fill in a high-level framework document. In order to assist L&A insurers to understand what their results may look like, Majesco's report provided examples of playbooks using the framework for up-and-coming life, health and group benefits, profiling Beam Dental, Haven Life, Insurance Menu and Stride. These are valuable examples that will give you real food for thought as you move forward.
Haven Life, in particular, makes a great example of a life product that has used its knowledge of the market, understanding of purchase motivators, and digital capabilities to create a new, effective model. Below is a sample of Haven Life's Digital Insurance 2.0 Scorecard.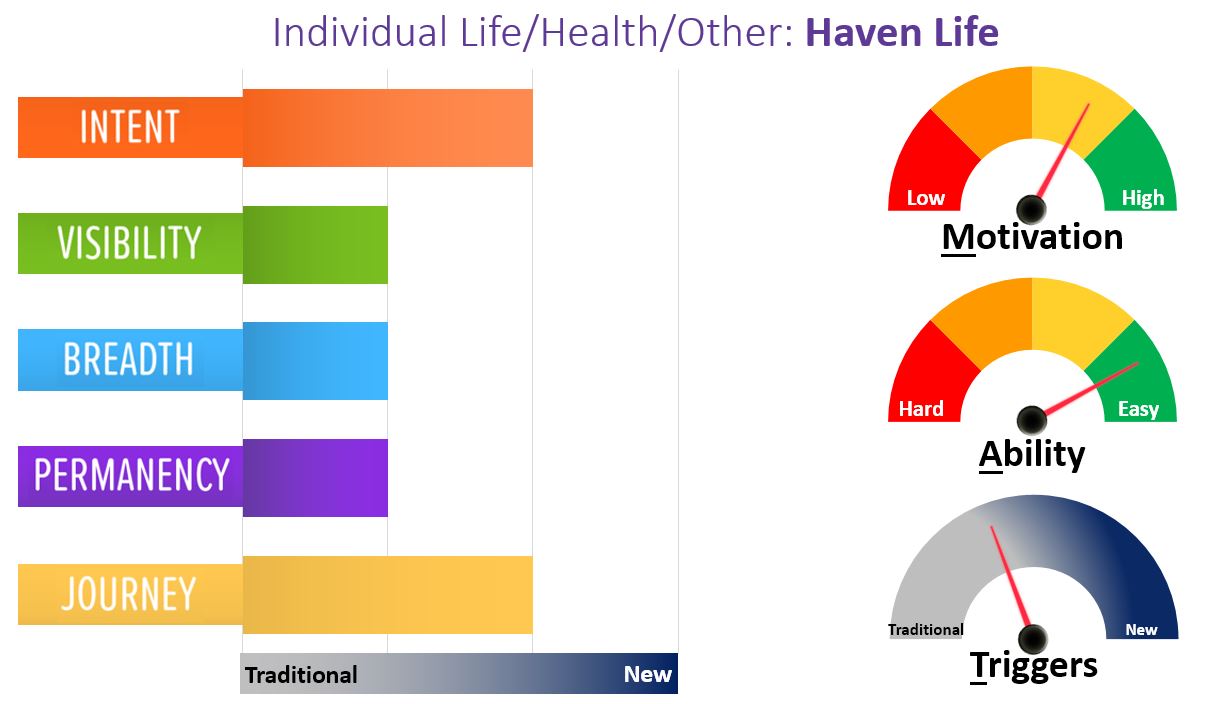 The time is ripe for creative business models, products and service development that shifts into the realms of Digital Insurance 2.0 by re-envisioning models within the context of digital possibilities and desired engagement. Using the framework and a playbook model, insurers can paint an effective picture of their unique value proposition, considering it against the backdrop of competitive playbooks. Insurers can leverage their own capital as venture capital for their own greenfield, putting their plays into action.
In our next blog, we'll focus on playbooks for Group and Voluntary benefits. What pressures are pushing Group carriers and how can they respond with playbook-led innovations to drive toward Digital Insurance 2.0?
For a preview or to dive deeper into the trends and opportunities available to insurers with digital models and capabilities, be sure to download Digital Insurance 2.0 Playbooks for L&A and Group Insurers. You'll find valuable consumer survey data, input from dozens of L&A and Group executives, plus high-level concepts that should be considered by every L&A and Group insurer. Included are over 30 insurance-related attributes as well as measurements of their importance across demographic groups. All of these digital insurance resources are designed to give you food for thought and growth as you build your organization's playbooks to thrive and compete in the world of Digital Insurance 2.0.