Blog
Distribution Ecosystems Foster Digital Insurance 2.0 Growth
If a prospect or a customer does their own research, finds your product, and buys it online, through mobile, or even through an agent — they have just done you the honor of "buying." For insurance, the purchase process has been difficult and complex for customers for a long time. But in the age of Digital Insurance 2.0, nearly every insurance process is rapidly moving to being frictionless, including "buying." If distribution channels are easy to use with products that are easy to understand, then insurance has the opportunity to grow through a friction-free multi-channel distribution. And when an agent uses their independent agent network to cultivate leads, makes sales calls, and sends quotes and information, then makes the sale — an insurer is "selling."
Selling works in this channel, but is often subject to hurdles and friction, longer timelines, wasted efforts and higher acquisition costs. For insurers that are wanting to build innovative new processes for distribution, they should focus on "buying" versus "selling," regardless of channel.
InsurTech and insurer innovation has focused on the "buying" over "selling" approach, with many insurers looking to shift their "selling" distribution channels into "buying" distribution channels through creative lead and prospect lead gen, marketing campaigns and engaging prospects via multiple channels in a consistent and compelling manner. Almost any distribution channel can be a buying channel using Digital Insurance 2.0 concepts.
The contrast between "buying" insurers and "selling" insurers is best seen through the lens of distribution. Does the insurer have several distinct and often siloed distribution channels, or have they built an agile distribution ecosystem that allows for a multi-channel presence? We discuss these issues in detail in Majesco's thought leadership report, "Distribution in the Age of Digital Insurance 2.0."
Distribution EcoSystem as a Differentiator
The challenges of Insurance 1.0 and the traditional "sold, not bought" problem can be addressed with a distribution ecosystem strategy to eliminate this vexing issue.
With the shifting landscape and competitive challenges to attract and retain customers, insurers can differentiate themselves by developing and engaging a broader distribution ecosystem that engages customers when and how they want … putting them first. Ecosystems can rapidly reach more markets and give current customers more purchase and service options by tapping into aggregator and price comparison sites, social media, call centers, agents, MGAs, chatbots, embedding themselves in other businesses (banks, automotive, home sellers, etc.), and more. Ecosystems can provide new access avenues, capabilities and value-added services for customers by adding "plug and play" partners to the insurance platform.
Most importantly, an ecosystem can place an insurer directly in the path of a customer's life journey event, where insurance is relevant and needed when embedded in these events, activities and other transactions … the most powerful value of a distribution ecosystem. It changes the insurance purchase from just one of many separate, disjointed transactions in a customer's life journey event into a "life journey engagement" that covers and includes all applicable products and services in a single, holistic experience for the customer.
Insurers must be a part of and offer a range of channels and capabilities with which they interact, transact and integrate, to offer customers innovative, optimized solutions. But they can't do this alone. Insurers must create an ecosystem of interconnected channels, using a range of digital capabilities to connect with customers when and how they want to.
In doing so, insurers can accelerate their journey to Digital Insurance 2.0, and realize the additional strategic and operational value of a rich partner ecosystem, including:
Accelerated growth
Enhanced customer acquisition
Greater brand awareness
Broader reach into new markets, unserved markets, and customer segments
Increased revenue
Integration with and access to innovative capabilities
Value added services to the other channels
As noted in an article by Bain, ecosystems can reinvent the customer relationship by delivering a differentiated and disruptive value proposition, while building customer engagement through innovative and personalized offerings.[i]
The first wave of platform and ecosystem insurance business models includes start-ups like Slice, Root, Lemonade, Trov, Ladder, ZhongAn and even incumbents like AXA. They have created innovative business models that are engaging ecosystems and platform solutions using technology innovations such as digital, cloud computing, artificial intelligence, machine learning, and new data sources to create a greatly-enhanced customer experience and new sources of revenue as reflected in Figure 1.
Figure 1: The rise of the platform economy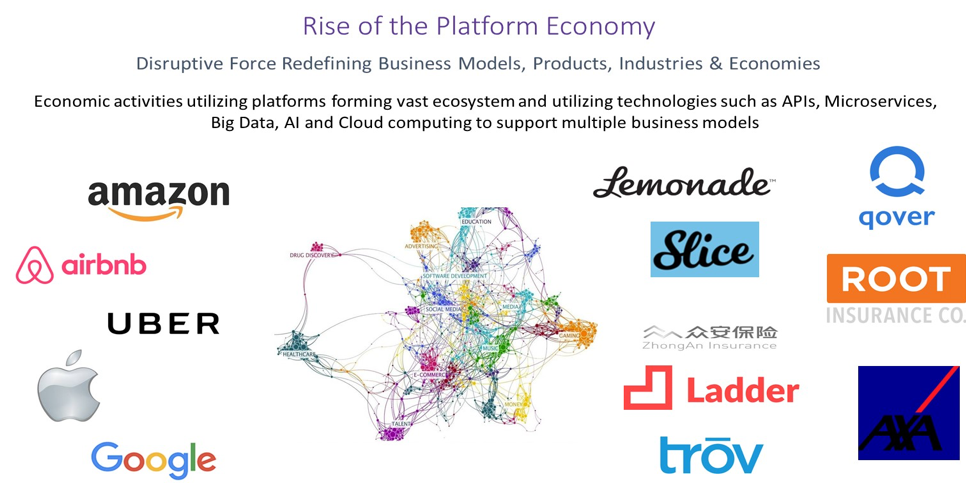 Some of these companies are just at the start of creating value and demonstrating how valuable these models can be. Many are now partnering with incumbent insurers and other industries to target customer life journey events that leverage their platform to provide a digital insurance model, expand reach and accelerate revenue.
In January 2018, Slice announced Slice Insurance Cloud Services™, a first of its kind, fully-digital, on-demand insurer with pay-as-you-go pricing designed and built to drive market experimentation and deployment. The offering provides a cloud-based, end-to-end, digital-first on-demand insurance platform, embeddable via an open-API approach. Slice is building an ecosystem of partners such as Progressive, XL Catlin, Cooperators and L&G to combine the brand and reach of the incumbents with the innovative Slice platform, to offer a product that fulfills a unique need for their customers.
In October 2017, Lemonade announced the opening of their platform to the world, allowing companies and growth-stage startups to easily incorporate insurance into their apps and products for their customers.[ii] Developers at other companies can now easily incorporate insurance into their own customer experiences, alongside their main products to support quoting, policy creation and payment for homeowners, condo, and renter's insurance policies in Lemonade's markets.
In November 2017, AXA in Singapore announced the launch of end-to-end insurance transactional APIs for Insurance-as-a-Service to provide customized risk management to customers when they need it and how they want it. Partners with complementary offerings can plug into the APIs to deliver seamless insurance protection when it is most relevant to the customer. At launch, AXA's APIs for Home, Travel and Car insurance were available for partners to integrate into their own customers' journeys, with others planned for 2018.[iii]
ZhongAn, best known for selling shipping return insurance on Alibaba's Taobao online shopping platform, launched Bao Biao car insurance in 2015, in partnership with Ping An. Bao Biao positions itself squarely within the customer's car purchase and ownership journey by leveraging an ecosystem of partners across the automobile value chain, including "carmakers, dealers, after-sales service companies, designated car driver service providers, and financial institutions that offer car loans."[iv]
In each of these cases, the distribution ecosystem is removing hurdles, friction and confusion on where and how to purchase insurance. They are seamlessly providing insurance solutions that naturally arise out of the everyday experiences of the customer.
The strategic value of distribution ecosystems is that they get you closer to the customer. Digitally enabled ecosystems also build connections — sometimes even with the competition. Insurers that establish an ecosystem of partnerships with a range of digital capabilities and channels will more effectively mitigate the disruptive risk of losing customers and accelerate their ability to reach new customers.
They will be positioning the business to take advantage of buying — flowing with the current of customer needs, events and lifestyles, instead of struggling upstream in an effort to convince customers that they need insurance as a part of a selling process.
For more detail on how distribution ecosystems foster digital insurance growth, including statistics and information that you can use to build an effective business case, be sure to download and read, "Distribution in the Age of Digital Insurance 2.0" today.
[i] Naujoks, Henrik, et al., "Ecosystems: How Insurers Can Reinvent Customer Relationships," Bain & Company, September 14, 2017, https://www.bain.com/insights/ecosystems-how-insurers-can-reinvent-customer-relationships/
[ii] https://www.producthunt.com/posts/the-lemonade-insurance-api
[iii] "AXA Turns Insurance-as-a-Service A Reality By Launching Region's First Partner Transactional API," November 13, 2017, https://www.axa.com.sg/latest-news/axa-turns-insurance-as-a-service-a-reality-by-launching-regions-first-partner-transactional-api
[iv] He, Laura, "ZhongAn generates 70pc of 2017 car insurance premiums in just one month," South China Morning Post, February 1, 2018, http://www.scmp.com/business/companies/article/2131449/zhongan-generates-70pc-2017-car-insurance-premiums-just-one-month