When it comes to the list of disruptive technologies, are we giving chatbots enough credit?
Chatbots are only beginning to show their potential, garnering initial headlines primarily due to Lemonade and their chatbot called Maya. That is interesting, considering that chatbots and AI will likely have a greater overall impact than many of the common up and coming technologies we have grown to accept, such as autonomous vehicles. How is it possible that chatbots are silently sitting on the sidelines?
It's simple. They aren't sitting silently. Chatbot development and use is in full swing. The headlines are picking up. Research organizations are putting forward more predictions about chatbots than ever. Chatbots are easier to implement than many technologies and operationally, they will provide real value. Text-based or voice-carried artificial intelligence and service-focused functions can readily swap with current human-based advisor/service functions. As complex as they are on the back end, chatbots don't require major hardware investment, such as sensors, and they don't require an inordinate amount of coding. So, for all of their disruptive potential to the way we do business, they may be far less disruptive to operations and IT, though operations and IT (and customers) stand to benefit from chatbots.
In an era where impatience is growing and speed is rewarded, chatbots can dramatically improve service levels and meet or exceed expectations. They can also make the economics work for providing service and executing transactions for the growing ranks of high-volume, on-demand, low-premium risk products coming to the market. They are the future of nearly all personal business transactions. For insurers, chatbots can be their own distinct channel as well as augmenting existing channels, supporting a multi-channel world.
Chatbots are growing in use and importance.
In Majesco's Future Trends 2017 Report, we discussed the impact and potential of chatbot growth. Chatbots aren't growing merely because they have service potential — they are growing because automated non-human service is gaining acceptance among the Gen X, Millennial (Gen Y) and Gen Z cohorts.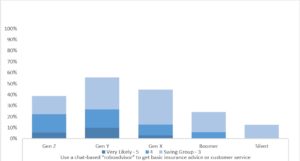 Chatbots' appeal and growth will likely make it one of the technologies to break out of age-based stereotypes. WeChat, China's most popular chat app, is a great example. With nearly 1 billion users (889 million people), its impact is felt across generations and it is even spurring older generations to adopt mobile technology. WeChat is popular — its users interact for an average of 90 minutes per day. Because it uses voice commands, it is also learning from conversations, illustrating the potential of chatbots to gain something from each interaction. [i]
Business Insider noted that 80% of businesses will be using chatbots by 2020, with 42% believing that they will improve the customer experience.[ii] In addition, 29% of customer service positions in the US could be automated with chatbots or other technology.
Chatbots offer immense potential for customers to interact with an insurer, through direct interactions within messaging or other social media apps.
Other technologies and their impact on Chatbots.
The "automated home" race between Amazon's Alexa, Google's Home, Apple's HomePod/Siri and many other technology providers, will enhance chatbot adoption and use. The more people become comfortable with interactions that are non-human, the easier it will be for people to feel comfortable in a chatbot purchase and service environment. Insurance is already adopting chatbot use and ramping up chatbot availability.
In the past year, for example, InsurTech saw a rapid rise in the use of chatbots within startups ranging from Elafris, which enables customers to download auto ID cards and pay bills, to Denim, which markets to consumers and links them with insurers or agents for renter or homeowners insurance.
Robo-advisors represent a chatbot with real AI integration and rules management, that can go beyond outside customer service and well into day-to-day executive assistance.
In July 2015, Zurich shared how they were using robo-advisors in two ways: First to accelerate and improve policy processing and issuance that improved quality and accuracy for their international casualty programs.[iii]  Second, they used them in the UK to conduct routine diary reviews for open claims that traditionally required attention by human operators.
In the quest for improved customer service, quality, accuracy, speed and efficiencies, robots and robotics have significant opportunity for insurers. From automating processes to interacting with customers, the potential seems limitless, as well as creating a starting point for cognitive applications.
A natural link: AI and Chatbots
Cognitive systems help visualize, use and operationalize structured and unstructured data, pose hypotheses based on data patterns and probability, and understand, reason, learn and interact with humans naturally. As a result, they help organizations create knowledge from data to expand nearly everyone's expertise, providing continuous learning and adapting to the environment to out-think the competition and the market.
AI and cognitive computing technologies like IBM's Watson have been touted as the link between data and human-like analysis. Because insurance requires so much human interaction and analysis regarding everything from underwriting through claims, cognitive computing may be insurance's next solution to better analyze and price risks using new data sources, while adding an engaging and personalized advisory interface to their services.
A savvy insurance technologist can easily begin to draw the lines between that kind of intelligence management and its potential when linked to chatbot advisory and directive services. Just as many of today's advisors and agents have experience in underwriting, tomorrow's chatbot may carry with it the ability to market, gather data, quote, underwrite, issue policies and settle claims without human intervention. Putting one face on an insurance company probably couldn't get more complete than that.
For now, we can see the seeds of this complete chatbot value chain in its beginnings.  At the recent SVIA InsurTech Bootcamp in August that we were involved in, we saw and discussed the array of opportunities to leverage chatbots, AI and cognitive … highlighting the opportunities unfolding.
In June of this year, PolicyPal, a Singaporean startup, announced the launch of its AI-enabled mobile app, which includes a chatbot supported by IBM Watson Conversation technology.[iv] The app not only helps prospects through the insurance selection process, it explains complex insurance concepts to consumers to enhance their overall insurance knowledge. The AI, having educated itself, is in effect, giving back through chatbot interactions. That is the future of insurance interaction, a market where both parties have something to learn and gain from the insurance relationship.
When Gartner asserts that, "Chatbots will power 85% of all customer service interactions by the year 2020," that may be enough to drive some business leaders to look into all that chatbots have to offer. Majesco, at the forefront of the changes in the industry, is a partner in chatbot development and implementation.  Are you ready to bring the advantages of chatbot interactions into your organization?
[i] Horwitz, Josh, China's Tencent is a sleeping giant in the global artificial intelligence race, Quartz, May 3, 2017
[ii] "80% of businesses want chatbots by 2020," Business Insider, December 14, 2016
[iii] Kuhlmann, Felix, Horgan, Paul, "Innovating with technology to help deliver on our promise to customers," Zurich, July 15, 2016
[iv] Terekhova, Maria, IBM Helps Launch Insurance Chatbot, Business Insider, June 8, 2017.