Blog
Mining for Digital: New Routes to Improve Insurance Customer Experience
Tunnels, once the greatest innovation in transportation, are poised to be the greatest once again through innovation and rethinking of transportation. While Elon Musk has been looking to the sky with SpaceX, he's also been going underground with the Boring Company, creating test tunnels in California and operational tunnels in Las Vegas. The key to Musk's tunneling concept is the rapid technological advancement being made in boring machines. Prufrock, the current all-electric boring machine, can dig a 12' diameter tunnel up to 1 mile per day.[1] The Boring Company has a goal of producing a boring machine that would be able to bore up to 7 miles per day, a stunningly fast pace that will change the landscape of transportation and create a new ecosystem that connects people and places more than ever before.
The value of tunneling is also a new level of versatility and looks at the concept of mobility rather than individual types of transportation. It will improve pedestrian traffic, auto traffic and certainly some forms of subway traffic, but it will also facilitate new types of underground travel, such as autonomous vehicle traffic and hyperloop travel. New tunnels can be dug without disruption to the infrastructure and they could be an excellent way to improve ground-level and atmospheric environments through non-emission subterranean commuting. Who would have thought that digging could lead to a more sustainable future? It is just one more example of how complex problems are often best solved with solutions that break outside of the boundaries of convention and incorporate new 360 view thinking with an outside in perspective.
Recently we have been looking at Majesco's latest thought-leadership report, Digital Insurance: The Inflection Point in an effort to peek into the future of the insurance experience. Increasingly, customers choose insurers not just for the risk product, but increasingly for the combination or risk product, customer experience and value-added services. Because of this, future insurance leaders will be those who provide smooth, pleasant experiences with the best views into products and value-added services. Can we learn anything by digging deeper?
An Outside In, 360 Mindset
No one will argue that insurance opportunities exist for those who can innovate and adapt. But insurers must approach their thinking differently than the past with outside in, 360 mindsets. Each insurer has its own mining to do. Not only do they need to think ahead about the impact of new technologies, like the Boring Company, on P&C insurance products, but they need to think about the impact of 360 digital views and value added services that create greater value for customers today and tomorrow. When it comes down to it, the customer is the one who is pushing insurers to innovate. They are looking especially hard at companies that can provide unconventional solutions to difficult insurance puzzles.
Insurers need to gain clarity on how to succeed in the future of insurance by reinventing what and how they do things. They must lay the groundwork of a new digital business model that embraces the customer and technology with an outside-in, 360 View. We are facing a constant flow of disruptive factors at the same time we are witnessing unprecedented opportunities.
Consider these pressures, threats and opportunities, including:
Non-insurance Providers: Companies like Tesla and GM are offering / embedding insurance and have access to more real-time data to competitively price and underwrite the risk than most insurers will have, potentially cutting off traditional carriers from these opportunities. Even Budweiser is getting into the game with a new business that offers "lifestyle-based" insurance plans. Budweiser notes that while this may seem unconventional, what they bring to the table is an untapped market for customer-first solutions.
Connected Everything: Connected devices, beyond telematics, are enabling mileage, location, weather-related and behavior-based underwriting and pricing for P&C and L&A products, which would tie premium to usage, risk or more – providing more personalized coverage.
On-Demand and Embedded Insurance: The rise of on-demand insurance, expected to increase 30% by 2026,[2] will expand to nearly all lines of business. Furthermore, embedded insurance is poised to shift from selling to buying insurance with insurance automatically included in the purchase of something else — like a vehicle, home, electronic device or more.
Continuous Underwriting: Rather than price once, a shift to constantly update the risk profile is emerging. This changes policy terms and pricing using the continuous flow of data from different sources like cyber, fitness devices, telematics and other IoT devices and encourages people to manage their risk, which can drive lower prices
Today's customers are extremely digitally adept, with higher expectations, different needs and a demand for better experiences that are not met with the "traditional" insurance approach, creating a fault line between customers' expectations and insurers' ability to deliver. In our customer research for individuals and businesses (Figures 1 and 2), the digital shift is well underway, reflected in the range of interest between both the older and younger generations for digital customer engagement and pricing.
Figure 1: Interest in digital customer engagement and pricing – consumers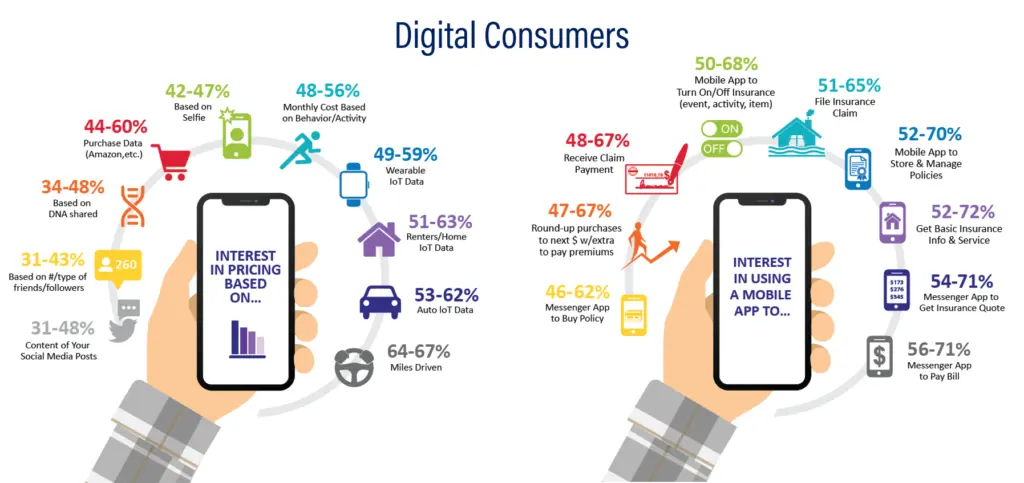 Why the AM Best Innovation Rating Relates to Digital
Insurers leveraging digital technologies, data and AI/ML are poised to leapfrog the competition by organizing talent, technology, and ways of working around a digital-first vision for empowering customers. These customers will respond to intelligent value propositions delivered through compelling journeys and experiences. Furthermore, this foundation enables insurers to accelerate additional innovations, operationally and strategically to meet the growing focus of the AM Best Innovation Rating.
In the recently released reports on innovation rating status, AM Best noted that while the pandemic forced businesses to cram years' worth of innovations into one year, most companies still have a long way to go.[3] The report also noted that there is a perceptible link between superior-rated insurers and insurers that are using cutting-edge processes and technology-leveraged innovation initiatives to create transformative results.
This may sound a little like InsurTech lingo, but the implications are profound and easy to see. If insurers are willing to dig deeper into their digital transformational need, they may find that data, analytics and digital technologies can help them create new paths to income and value. The costs of cutting-edge technologies are continually going down as their impact rises. For example, the flexible, scalable, volume-based pricing of cloud-based processes that are necessary for digital service create a tremendous cost-savings over on-site server-based systems, but more importantly provide the agility and flexibility to connect with ecosystems and adapt to market changes rapidly.
This is similar to tunnel boring. Prufrock's boring cost per mile is going down just as the necessity for tunnels is on the rise. The result in both cases (tunnels and insurance) will be an ability to improve traffic flow, improve speed, improve experience and meet demand while reducing the overall use of previous technologies. That's what makes digital insurance a more highly-sustainable solution in the long run. It is solving multiple formulas at the same time.
The bottom line … a digital-first strategy that will accelerate an insurer's transformation will position that insurer as a future leader.
Figure 2: Interest in digital customer engagement and pricing – SMBs
Can a Digital Strategy Meet the Digital Insurance Shift Quickly Enough?
Nothing satisfies an insurance customer more than having a positive personal-interaction experience with any company — even their insurer. All it takes is to meet their expectations of a personalized, smooth experience for a claim, a purchase, or a routine contact such as billing and payments. It is about creating the "Amazon experience" for insurance.
Of course, when these interactions are disparate, frustrating, complex, or redundant, the opposite is true. Customers become disillusioned and unsatisfied with the insurer.
COVID has tested insurers' ability to pivot to a digital-first strategy, with an increased focus on a 360 View customer experience across many different areas of the insurance value chain. Years of adding disparate, siloed digital capabilities like functional portals were challenged. It became apparent that real digital transformation required a mindset shift to a new way of thinking, planning, and doing. Leaders know this.
Digital Leaders are leveraging digital technologies to enhance customer experiences and to improve their strategic and operational capabilities, as seen in Figure 3, with leads over the Laggards up to 60%. However, when stepping back and looking at where insurers are compared to what customers expect, a larger gap exists for all insurers – the Laggards, the Followers, and even the Leaders. Just comparing one's company with other insurers will not lead to meeting a new era of digital customer expectations.
Figure 3: Leaders, Followers and Laggards responses to developing/implementing digital capabilities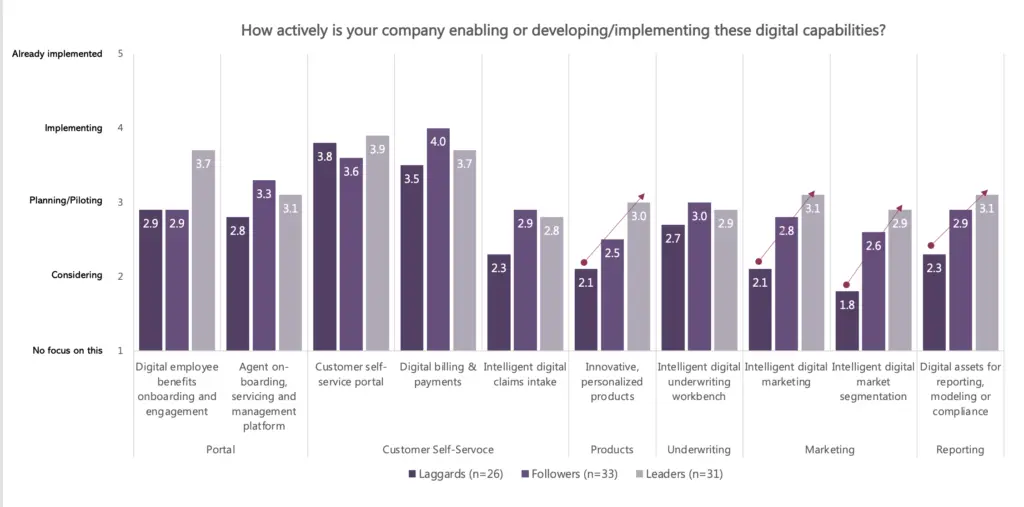 Today's customers are increasingly digitally adept, with higher expectations, different needs and a demand for better experiences that are not met with the "traditional" insurance approach, creating a fault line between customers' expectations and insurers' ability to deliver. These digital gaps will become the new competitive differentiators.
In Gartner's Emerging Risks Monitor Report from earlier this year, they noted that "organizations are concerned about their ability to keep up with a rapidly changing business landscape, driven in part by concerns about their own organizations' lagging and misconceived digitalization strategies."[4]
Unfortunately, insurance still embraces decades of legacy business assumptions and technologies that are roadblocks on the path to digital maturity. Many insurers were early adopters and innovators in technology, but have built up a complex landscape of technical assets over decades, resulting in significant technical debt. The "modern" solutions of 10 years ago no longer meet the demands of a digital era or match the capabilities of InsurTechs who are raising the bar.
Creating 360 Views for customers that provide transparency, intuitiveness, efficiency, and compelling experiences require next-generation core, data and digital platform solutions that use cloud, API, microservices, AI/ML and other technologies. This next-generation technology stack allows the exchange and ingestion of valuable data from diverse sources to produce highly-personalized customer experiences in near real time.
Insurers need to do some future-thinking around real-time risk assessment. They need to re-imagine customer journeys to move beyond a "tunnel-vision" portal to a new customer experience, to create new products, offer new services and innovate their business models.
This next-generation digital experience for customers represents a critical response to the need that insurers increasingly find themselves in right now: An existential requirement to stand out in a crowded, and increasingly more agile, highly competitive industry. Success requires an array of solutions built around the customer.
As we enter this new decade, the future of insurance is rapidly unfolding with robust digital business models. Insurers must keep their customers satisfied through next-generation user experience technologies. With the belief that the retention of customers is dependent on customers' perceptions of insurers, the time has come for insurers to create a new strategy for digital operations and digital experience. Insurers need to invest in capabilities and tools that create enhanced customer experiences and help enable growth in this competitive environment with a 360 view.
Where is your digital underground? How can you capture the digital opportunities that will rapidly transport your organization into the future?
For a closer look at why this point in time requires a new look at digital insurance strategies, be sure to read Majesco's latest thought-leadership report, Digital Insurance: The Inflection Point. You'll also want to access Majesco's latest webinar, The New Normal: A Catalyst for Cloud Adoption, brought to you in conjunction with Microsoft.
---
[1] www.boringcompany.com
[2] "On-Demand Insurance," NAIC, June 11, 2020, https://content.naic.org/cipr_topics/topic_ondemand_insurance.htm
[3] Hopper, Jason, Imsirovic, Eden, "One Year In: How Insurers Are Doing on AM Best Innovation Assessments," Carrier Management, May 10, 2021, https://www.carriermanagement.com/features/2021/05/10/220357.htm
[4] "Gartner Survey Shows Pace of Change as Top Emerging Risk Concerning Organizations in 2Q19," Gartner Press Release, July 24, 2019, https://www.gartner.com/en/newsroom/press-releases/2019-07-24-gartner-survey-shows-pace-of-change-as-top-emerging-r