Blog
Incumbent Insurers are from Mars and InsurTech Startups are from Venus: Panel Discussion Part 1
John Gray's bestselling 1992 book Men Are From Mars, Women Are From Venus helped define relationships for a generation based on the metaphor that men and women are from distinct "planets" with their own traditions and customs. It has endured as a popular way to explain how people get along with each other.
The comparison works for other relationships, too, and it fits especially well with the relationship between InsurTechs (insurers, MGAs, data and solution providers) and incumbent insurers, MGAs and reinsurers. For both of them to survive they need their partnerships to work. They have to find a common ground for operation, communication and technology. Their goals and focus, however, have placed them on two very different sides of the same business equation. Is it possible for them to find common ground and work well together?
To assist us in understanding the focus and priority differences between InsurTechs and incumbents, Majesco commissioned a survey of InsurTech participants, in collaboration with Silicon Valley Insurance Accelerator (SVIA) and Global Insurance Accelerator (GIA). The survey focused on two segments of InsurTech: insurer / MGA startups and solution/data provider startups. The survey was designed to understand InsurTechs' views of the industry, where and how they are entering, views of customer pain points, and what they have learned so far. We then took those results and shared them with four industry insiders — a panel of executives who live at the intersection of carrier and InsurTech relationships. Their ability to provide their views on the results was insightful. You can listen to what they had to say in our latest webinar, Incumbent Insurers are from Mars and InsurTech Startups are from Venus.
In moderating the panel, the survey results reflected some interesting insights, but the discussion delved deeper to provide a broader, more nuanced view. Today, we'll discuss Majesco survey findings and briefly cover some of the insights from the first half. The panelists included:
Mike Connor, CEO, Co-Founder, Silicon Valley Insurance Accelerator (SVIA)
Ryan Hanley, CMO, Bold Penguin
Brian Hemesath, Managing Director, Global Insurance Accelerator (GIA)
Dr. Robin Kiera, Founder, Digitalscouting.de
Within each topic area, our panel discussed the survey results and how they match up with their own view and experience of industry trends and focus. For reference, readers can refer to each slide at the top of the section.
Lines of Business Focus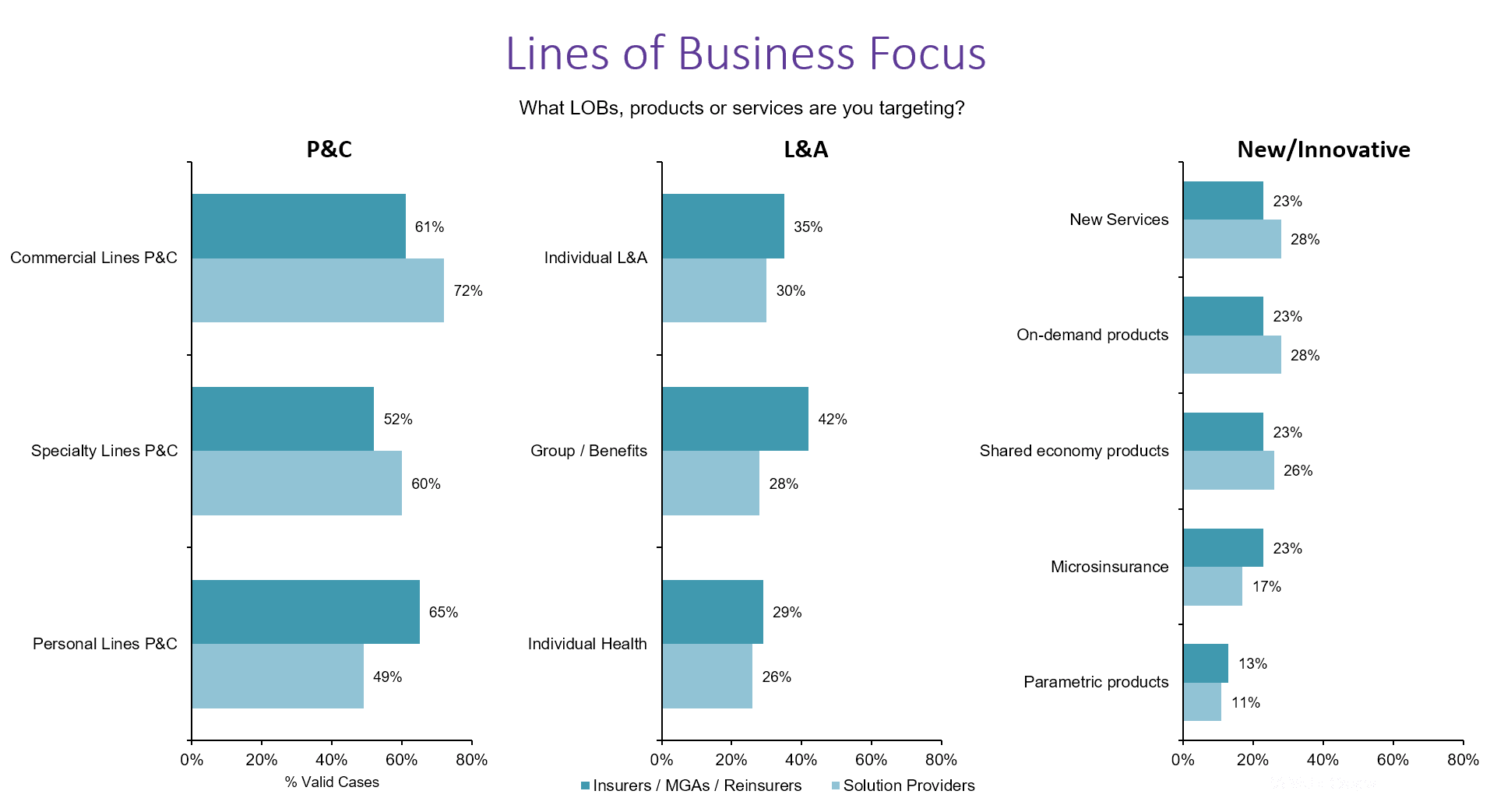 The distribution of interest by Lines of Business, products or services is weighted heavily toward P&C. Our panelists generally agreed that this is a facet of both the "low-hanging fruit" factor of projects and the ease with which InsurTech capabilities can be created and assimilated into the P&C process. New and innovative products and services, however, gained nearly a quarter of InsurTech's business focus. These represent the disruptive products that fit a new demographic, culture and economy. But they also represent greenfield opportunities for incumbent carriers.
"One trend that we are seeing is more ideas and focus on the Life and Annuities side," Brian noted. Brian is involved in reviewing applications for InsurTech startups for GIA that are interested in development opportunities, so he sees these statistics playing out daily. "There are more people getting involved in the life and annuity space and plenty of room for innovation."
Mike weighed in with an important point.
"The ecosystems between life and health and fintech and wealth are starting to connect. I think we're going to see an uptick in this space as we see life insurers begin to answer the question, 'How do we help our customers live healthier and wealthier lives?'"
From a solution provider perspective, Ryan pointed to the bridge between life insurance selling issues and what innovations need to occur in that area.
"The innovations that excite me are the places where [life, health and non-variable annuities] are integrated into a product that people actually want and use. Banking, Fintech, Health — any of these service products that can drop in a life product and make it a seamless part of a transaction is exciting."
Based on the discussion, a key take away is that while P&C has been the early focus, particularly with innovative new products, L&A is rapidly embracing the InsurTech opportunities with increased focus and investment.
Customer Journey Pain Points
A key area for the survey, was to understand the two InsurTech segments' views on how easy it is to do business with incumbent insurers across different areas of the value chain. We found some significant disparities between their perceptions. For nearly every functional area, such as filing a claim or paying a bill, solution providers thought that incumbents' processes are harder than the insurer / MGA segment did. The lone exception was in researching policy offerings. [See below.]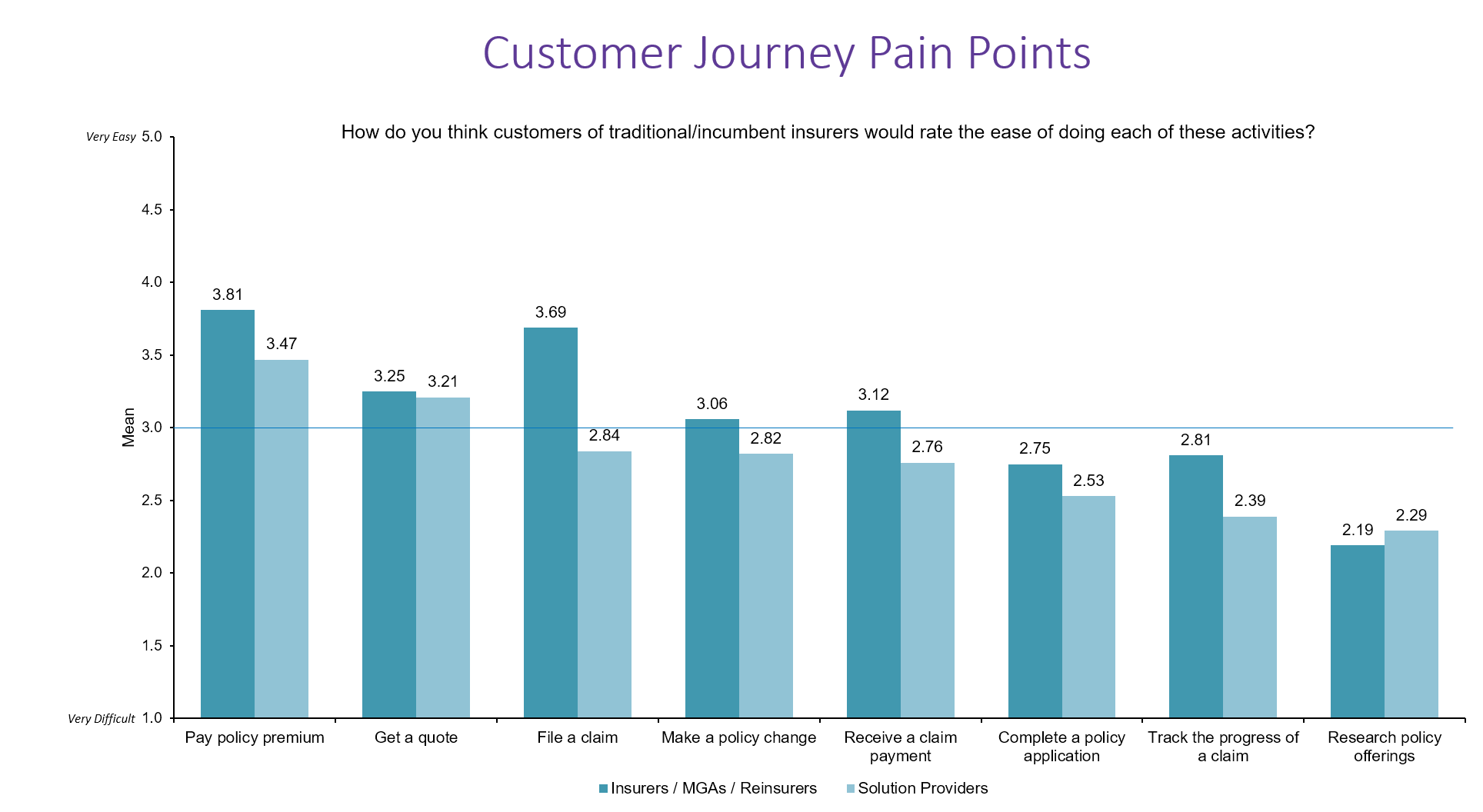 The panel expanded on this relative to their views and experience.
Robin asserted that the largest pain point is more general.
"We, in contrast to other industries, do not provide the customer with digital products and services that actually help them in their lives. We need to re-win the hearts, minds and home screens of those customers."
Mike added that the survey perceptions were fairly representative of the customer mindset. Claims, for example, creates pain and friction because it is a naturally adversarial relationship.
"There is a big difference," said Mike, "between how the incoming innovators are focused on the customer and the existing incumbents are focused on optimizing their product and their workflow. I think where we are going to see the innovation occur is when we start to bring Big Data, analytics, AI, robotic process automation and blockchain together to reduce the amount of data that has to be input by the insurer, broker or claimant because we already have that data available and we can optimize and dramatically increase the effectiveness and decrease the friction in those processes."
Importance of Agents and Brokers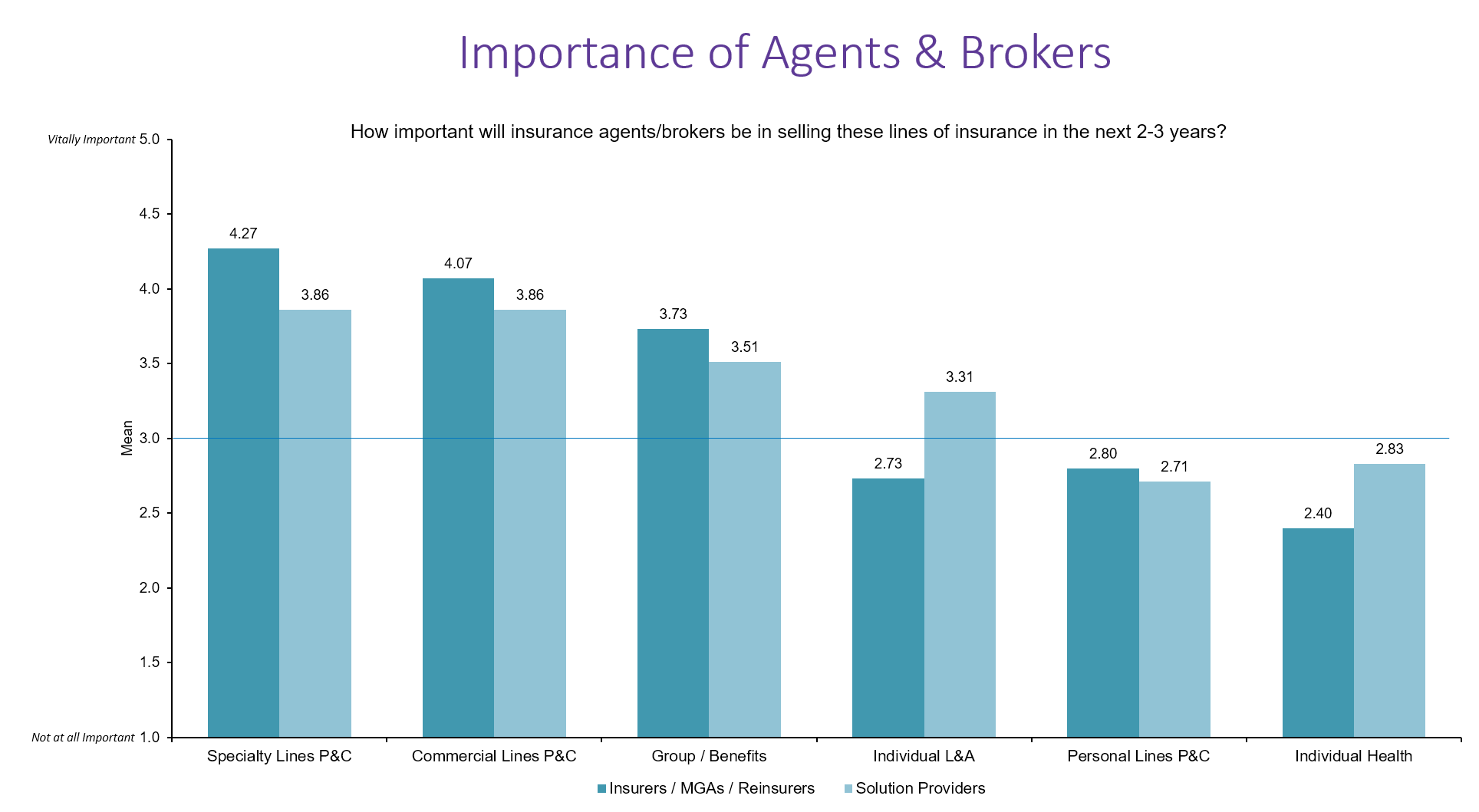 Fundamentally we wanted to understand InsurTech's view of the role and importance of agents/brokers over the next 2-3 years, particularly given the early and heavy investment in distribution for InsurTech.
The survey and panel had real consensus — agents are important and are not going away anytime soon. While there will be a consolidation of the number of agents and agencies due to retirement or acquisitions, there is a real continued need for their valuable service, particularly for more complicated products.
Specialty lines and commercial lines lead the way. Even with InsurTech tools to enhance quoting, businesses and individuals still need some kind of personal touch. Unsurprisingly, personal P&C lines seem to be less of an issue…but Ryan pointed out that even here, agents are necessary to make sure that customers aren't settling for state minimum coverage that could leave them highly liable and financially unstable after an accident.
Robin pointed out that in Europe it seems to be the case that 20% of the agents are bringing in 80% of the business, so there will be a natural reduction in the agent population as carriers look to engage those who are most productive and profitable. He posed a related, relevant question, which is "How can carriers help agents move into the digital age?" This is where insurers and solution providers will be collaborating to make brokers and agents as effective as possible, helping to enhance the customer and brand experience.
Once that happens, Brian pointed out, the responsibility is on the agent to use time wisely.
"It is the blend of human creativity and knowledge, coupled with (improved) processes that is going to win the day across the board," said Brian. "If you're bringing these capabilities to that market, but you aren't using the spare time that that buys you to be creative and engage personally, then you're going to lose."
Value Chain Focus — Top Six Areas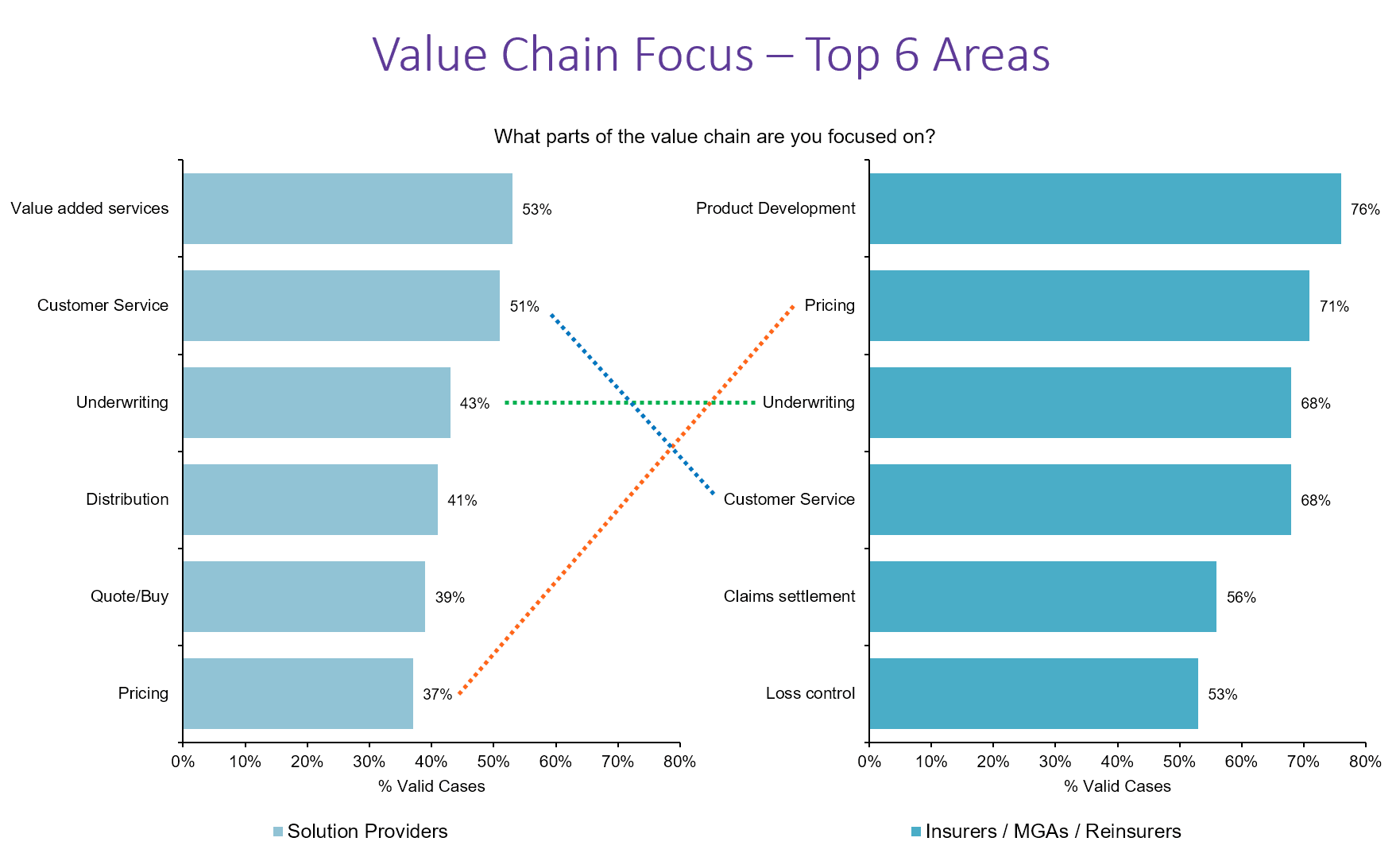 One of the most telling questions in the survey was, "What parts of the value chain are you focused on?" InsurTech insurers / MGAs placed Pricing near the top of their list, second only to Product Development. The two together highlight a focus on innovative products that likely have new data sources for pricing. In contrast, InsurTech data and solution providers placed Pricing at the bottom of the list. Does this disparity reflect a lack of knowledge about customer demands for new products or carrier pain points? Or is it simply because data and solution providers don't understand or see the potential to affect pricing in a meaningful way because they may not have deep understanding of the industry?
When looking at the results cohesively, we see a contrast where insurers/MGAs are focused on the business offering and fundamentals (pricing and product development), whereas data and solution providers are focused on process, particularly service. Robin pointed out that it is possible that there is no real disparity here at all and that this simply reflects core competencies — they are staying within their comfort zones.
Ryan offered a bit of wisdom related to conversations between data and solution providers and insurers and MGAs.
"One of the reasons that I'm glad to see more incumbent carriers coming to InsurTech focused events is that the more carriers can understand where the solution providers are coming from and the solution providers can understand why carriers spend so much of their time on something like underwriting. Those discussions — where the two methodologies blend, will be the sweet spot, and certainly what everybody (on this panel) is looking for."
In our next blog, we'll take a closer look at the agreements and disparities between ecosystems and partnerships, internal and external challenges and the technologies that will take carriers to where they need to go. We'll cover some carrier motivations and even have some discussion around how carriers can keep from being overwhelmed with solution provider choices. It is a highly informative and engaging set of responses and I hope you'll join us. For access to the full discussion, visit the Majesco website and view the webinar today.