Majesco Billing for P&C Capabilities
A flexible enterprise billing platform to improve customer experience
Enhanced digital experience
Meet agent and customer expectations with compensation management capabilities, electronic billing and payment, and portal and mobile access.
All bill types supported
Consolidate bills for agencies and policyholders across all lines of business
Ultimate configuration agility
Rules-based functionality and configuration tools bring a new level of autonomy to IT and business users
Electronic billing and payment
Unrivaled levels of customer access and self-service for bill presentment and payment
A chassis built for the future of insurance
Billing is no longer just a back-office transaction
A chassis built for the future of insurance
Rapidly adapt to changing market demands with configurable modules and services and our robust ecosystem of partners offering new capabilities, data and services.
Empowers all P&C lines of business with an array of billing types, including Direct, Customer Account, Agency Statement, Agency Account Current, Wholesale, List/Payroll Deduction and Deductible Billing, among others.
Flexible and intuitive configuration capabilities for Business and IT Users.
Effective management and disbursement of agent compensation with a rules-based commission engine that handles flexible commissions contracts and changes.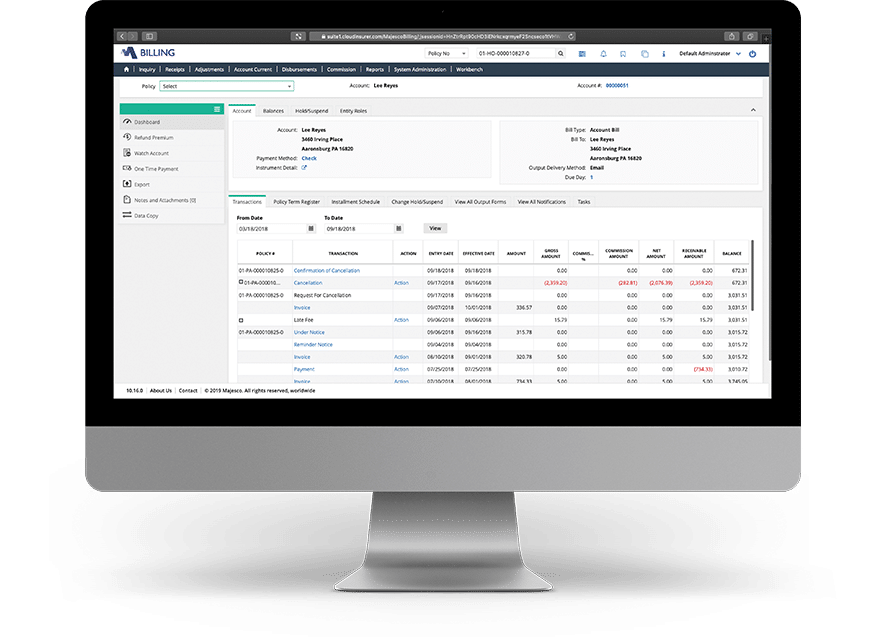 Innovative Electronic Billing and Payment capabilities
Delight customers with our new Electronic Billing and Payments app powered by the cutting-edge cloud-native Majesco Digital1st PlatformTM and integrated with CyberSource, Visa's payment management platform, available on the Majesco Digital1stEcoExchangeTM
Pure Software-as-a-Service (SaaS), secure, self-service portal optimized for superior customer experience, making it easy to quickly sign up, access real-time billing information and make payments.
Supports multiple payment options, including guest payment, one-time payment, and automatic recurring payments.
Integration with the CyberSource payment management system to support an extensive list of payment cards and a wide choice of other gateways.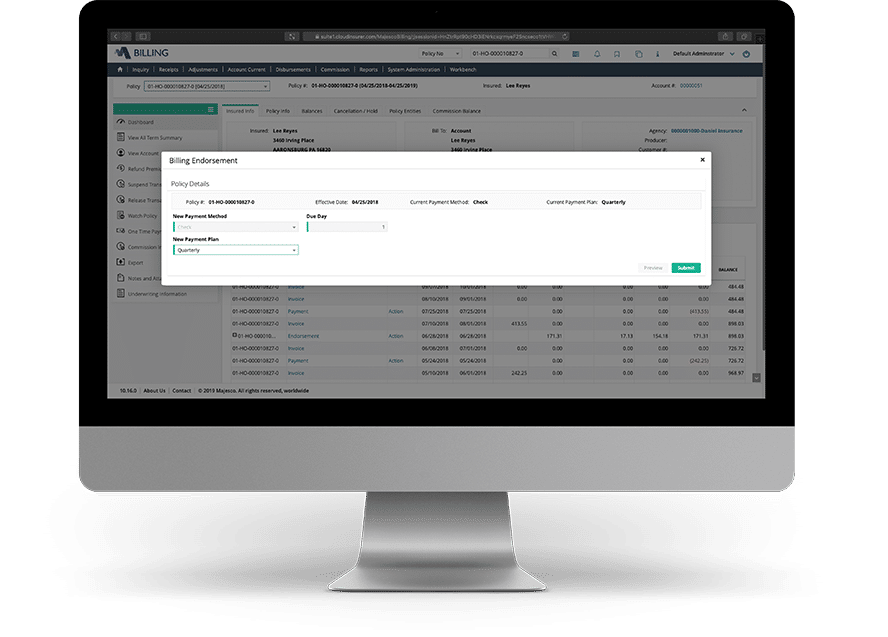 Reporting and Advanced Analytics
Pre-configured mapping of metadata, standard reports, and dashboards; providing quick-to-value, cost-effective business intelligence, along with dashboards and reporting tools.
Pre-integrated with Majesco Insurance Data and Analytics Platform, making data more accessible and actionable for your business.
Increase visibility and generate best-practice reports for trend analysis and market refocusing.
Improve cash flow and provide an accurate picture of accounts receivable with a special focus on problem accounts.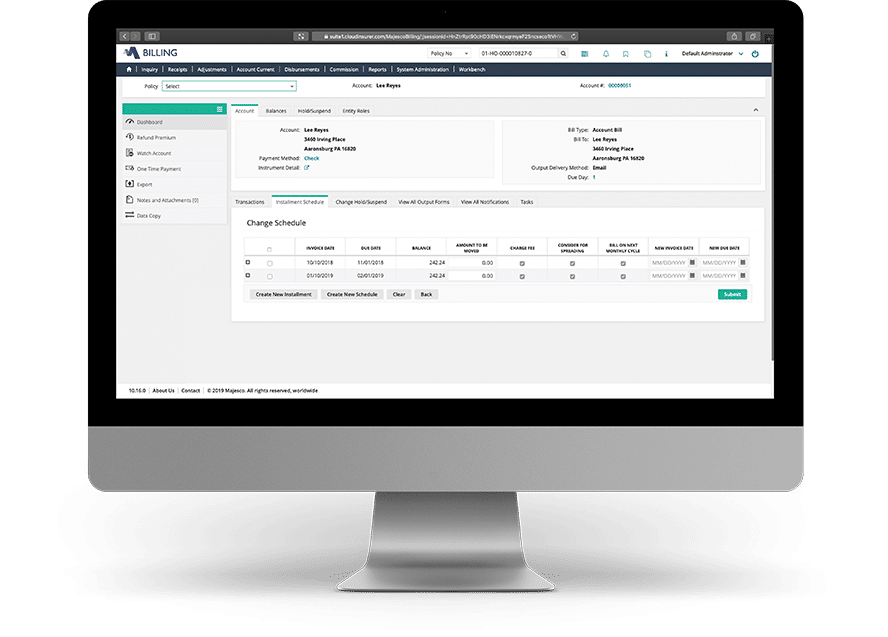 Delivery & Consulting Services for P&C Insurance
Ensuring delivery success as you transform your business
Meet the Companies Who Own the Future of Billing for P&C
Shelter Insurance developed and launched a new brand, Say Insurance, to reach and serve new markets with a digital auto insurance experience and product. Our vision is to provide an insurance experience that is transparent, clear, respectful and useful to our customers, with billing being one of the most frequent and impactful experiences. Majesco Billing serves as a part of the foundation of a new digital experience using cutting edge technology and our commitment to innovation.
John Rooney, Vice President of Information Services at Shelter Insurance
IMT's commitment to high-touch experience is a key reason for our selection of Majesco Billing. As a recognized leading billing solution in the market, along with implementation in the Cloud, we will be able to bring innovative new capabilities to our agents and customers to meet their increasing demands and expectations. Majesco Billing serves as a part of the foundation of a new digital experience using cutting edge technology and our commitment to excellence.
Ann West, Vice President of IT at The IMT Group
QBE North America's Specialty Lines division has aggressive growth plans through broad array of product offerings ranging from bureau and non-bureau nationwide products. After an extensive search, we chose Majesco for its capabilities to deliver products with agility for meeting our growth plans. We found Majesco products ready to be deployed with minimal implementation efforts. Their enterprise cloud capabilities bring scale, security with a variable pricing model that aligns with our strategic goals and plans. We look forward to a long term partnership with Majesco.
Jeff Grange, President of Specialty Lines at QBE North America
Billing for P&C RESOURCES