Ganesh Pai
Executive Vice President - Consulting Services
Ganesh Pai, EVP - Consulting Services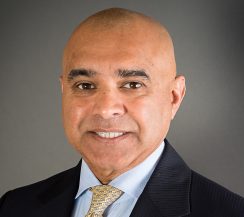 Ganesh Pai is the Executive Vice President and leads the consulting services business at Majesco. In this role, he is responsible for growth, P&L management and oversees all aspects of the business from strategy to execution.
Prior to joining Majesco, Ganesh was the Vice President and Global Head of IT, Insurance Business Unit at Genpact, responsible for IT services and taking to market innovative digital and technology enabled insurance solutions.
Previously, Ganesh spent 17 years at Mphasis (a Blackstone company) where he contributed significantly to their growth playing multiple leadership roles across geographies, business units and industry verticals. At the time of leaving he was the SVP & Global Head of Insurance, CEO of Mphasis Wyde and a member of the executive leadership team managing a global business for software products and outsourcing services with end to end responsibility including financials, marketing, sales and client relationships, solution portfolio, R&D, product development, operations and service delivery. During his tenure in the company, he held several key regional and industry vertical leadership positions and was based out of Singapore, London, New York and Chicago.
Ganesh started his career and spent 8 years at Wipro. He held several positions in sales and marketing of IT products and services.
Ganesh holds an undergraduate degree in Electrical Engineering from Bangalore University, India, and an MBA from the University of Chicago's Booth School of Business.