Majesco Life AdvicePlus Capabilities
Automated solution for delivering personalised advice to customers at every stage of life
Customer engagement
Innovative channel for engaging directly with customers in the digital world
End-to-end experience
Complete advice value chain from fact-find and needs analysis to personalized recommendations
Speed to value
Modern, automated SaaS capability that helps insurers deliver on their digital strategies
Scalable over time
Ability to update and revisit needs and financial commitments over the customer's life span
Majesco Life AdvicePlus
Rapidly launch new, innovative products with a modern digital experience
Holistic financial view
Self-directed journey with financial health visualizations at the individual portfolio level
Straight-through processing to policy administration system
Supports cross product robo-advice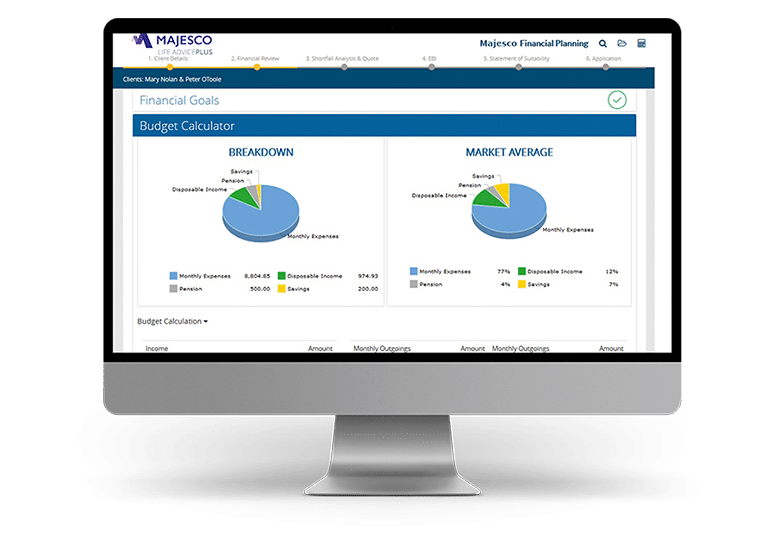 Client-driven recommendations
Shortfall analysis in points of time with recommendations driven by client goals
Improved customer service through online illustrations, straight through processing and calculations and faster turnaround times on quotations, alterations and new products.
SaaS (Software as a Service) – subscription-based licence model with option of cloud-based deployments which provides cost savings, flexibility and regulatory compliance
Lower total cost of ownership – subscription based pricing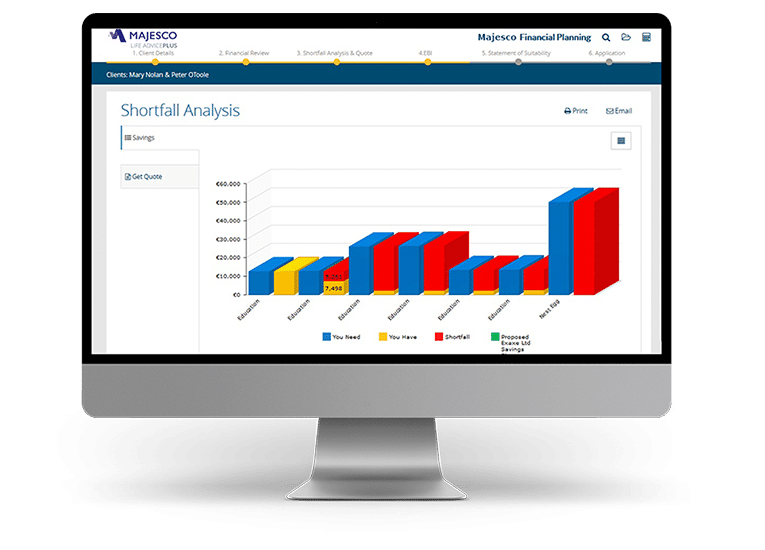 Full digital journey
From financial health check to recommendation to quotation and purchase
It supports a shift to digital distribution
It also supports life and pensions provider's digital transformation strategy
SaaS (Software as a Service) – subscription-based licence model with option of cloud-based deployments which provides cost savings, flexibility and regulatory compliance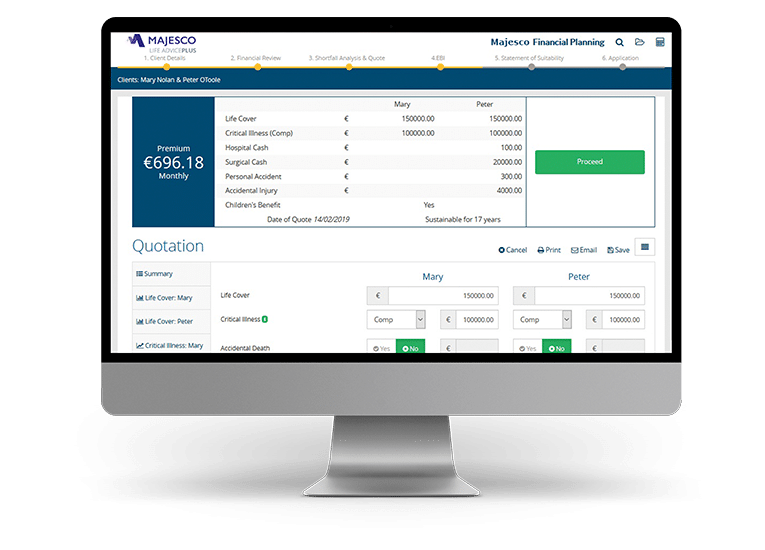 Delivery and Solutions for Consulting Services for Life AdvicePlus Solutions
Helping you achieve implementation success
Meet our customers who own the future of individual insurance
Acorn Life DAC needed a solution that would reduce the cost of its direct sales process whilst simultaneously increase efficiency and customer satisfaction. After researching the market, Majesco had by far the best online and offline digital advice solution of any software provider. Life AdvicePlus allows Acorn Life DAC to process electronic applications straight through to the back office with improved customer service, whilst also providing significant cost reductions.
Gerard Ryan, Operations Director at Acorn Life DAC
Foresters Friendly Society needed to replace our existing IT applications in order to support our business strategy, to achieve sales growth and to reduce maintenance costs. In addition, we needed a partner who could provide a high level of configurability within the solution, so we can bring a wide range of products to market quickly and rely on Straight Through Processing to ensure the service we provide is as efficient as possible for our members. We are pleased to find these capabilities with our new partner Majesco. Their SaaS solutions will allow us the flexibility and efficiencies we need to help achieve our business goals whilst maintaining our excellent member satisfaction levels.
Grant Streader, Head of Insurance Operations at Foresters Friendly Society
Police Mutual continues to invest in new solutions to better benefit our members. We chose Majesco for the quality of its technology, together with its business expertise.
David Loughenbury, CIO at Police Mutual
Life AdvicePlus Resources