POWERFUL CORE SUITE FOR L&A AND GROUP INSURANCE
Accelerate digital transformation and address legacy debt to respond to today's pace of change for customer centricity, operational effectiveness and innovation of products and benefit plans to keep you at the leading edge.
Powerful Single Platform
A powerful single platform that supports Individual, Group and Voluntary Benefits, supporting portability of benefits to an individual product
Rapid Innovation
A robust library of pre-defined and ready-to-use product features, templates, rules, calculations, and workflows with the ability to inherit and copy attributes for rapid product innovation and launch
Leading Edge
Adapt to market changes rapidly, providing speed to value that keeps you in a leadership position
Operational Power and Value
Optimized straight through processing – until choices need to be made; once a choice is made, it is shifts to being always STP – to realize true speed to value and achieve competitive market position
A POWERFUL NEXT GENERATION PLATFORM FOR ALL LIFE, ANNUITIES AND GROUP INSURANCE
Drive transformation and innovation to redefine your future of insurance in a dynamic market
POWERFUL DESIGN AND INNOVATIVE PRODUCT CHASSIS

Deliver unprecedented agility, innovation and speed to value
A Single Platform for Individual, Group and Voluntary Benefits that allows you to rapidly leverage existing products to create new ones across individual, group and benefits to capture market opportunities that accelerate your growth strategies
Pre-defined and ready to use products for Whole Life, Term Life, AD&D, UL, Critical Illness, Accident, Hospital Indemnity, STD, LTD, Dental, Vision, Legal, Fixed Annuities, Medical Supplement, Heart & Stroke, and Cancer across individual, group and benefits
Robust Out-of-the-Box Capabilities with pre-defined and ready-to-use product features, templates, rules, calculations, and workflows with the ability to inherit and copy attributes for rapid innovation and launch
Touchless Administration through STP to help your organization realize true speed to value and achieve competitive market position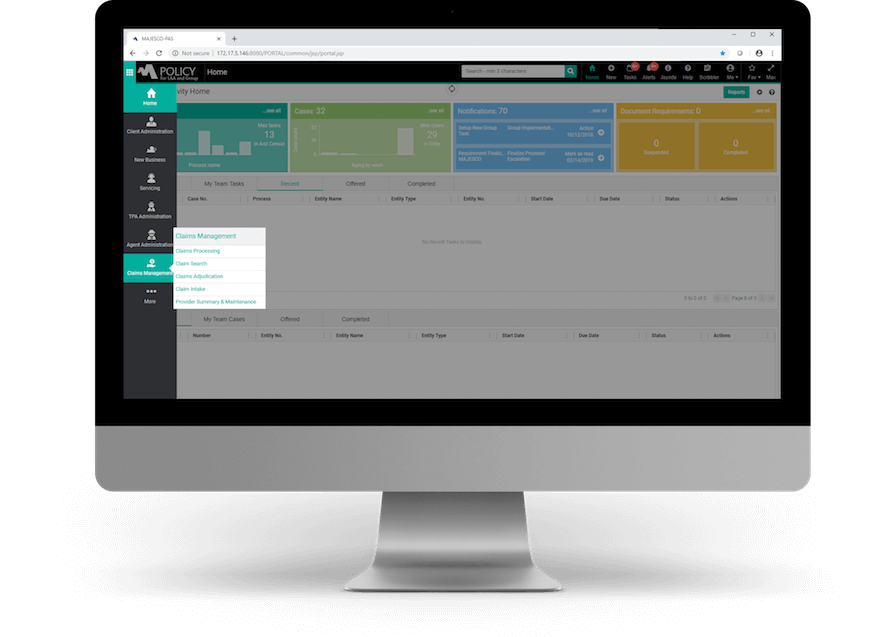 Enhanced Business Agility

Deep Customer Insights for True Customer Service
Intuitive and easy to read dashboards providing 360-degree view of the customer across the policy lifecycle
Enhanced customer service with extensive user personalization, intuitive sign posts and alerts and expanded chatbots to convert your procedure documents into an online checklist that navigates through the screens and processes within and outside the Majesco Suite
Wizard-driven screens for complex transactions and multi-step processes
Powerful case management and workflow framework with robust capabilities for role and work assignments, queues and skill-based adjudication enabling full-automated levels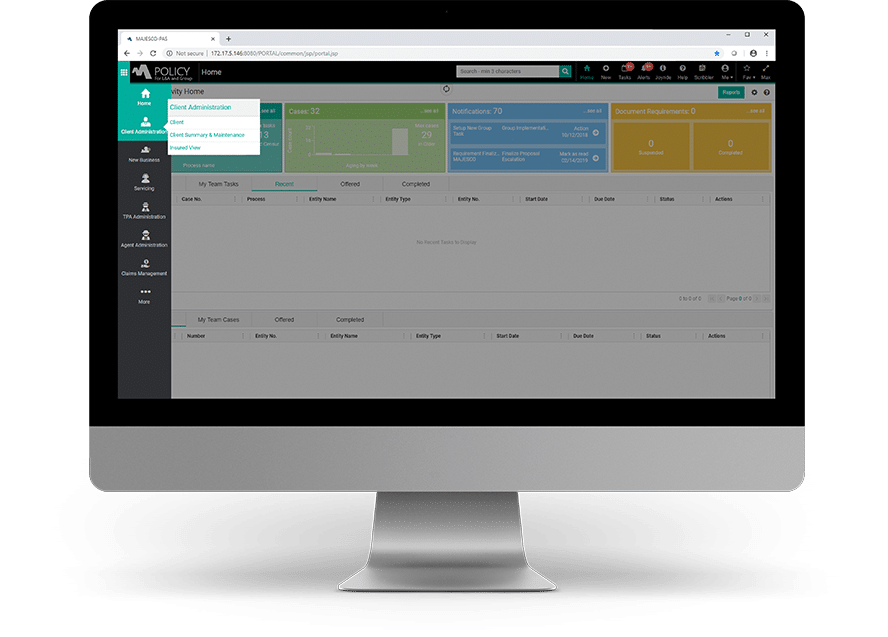 A POWERFUL PLATFORM - CLOUD. DIGITAL. DATA.
Built for the next generation of business needs with open standards
Pursue your cloud-native agenda in our highly scalable and secure solutions with core containerization support.
API enabled with leading-edge capabilities and features for a true competitive advantage
Deliver personalized experiences to drive customer engagement and business growth with pre-integration to Majesco Digital1st® Insurance Platform
Leverage Majesco L&A Insurance Data and Analytics Platform and our robust Ecosystem partners with AI / ML to drive powerful insights and actions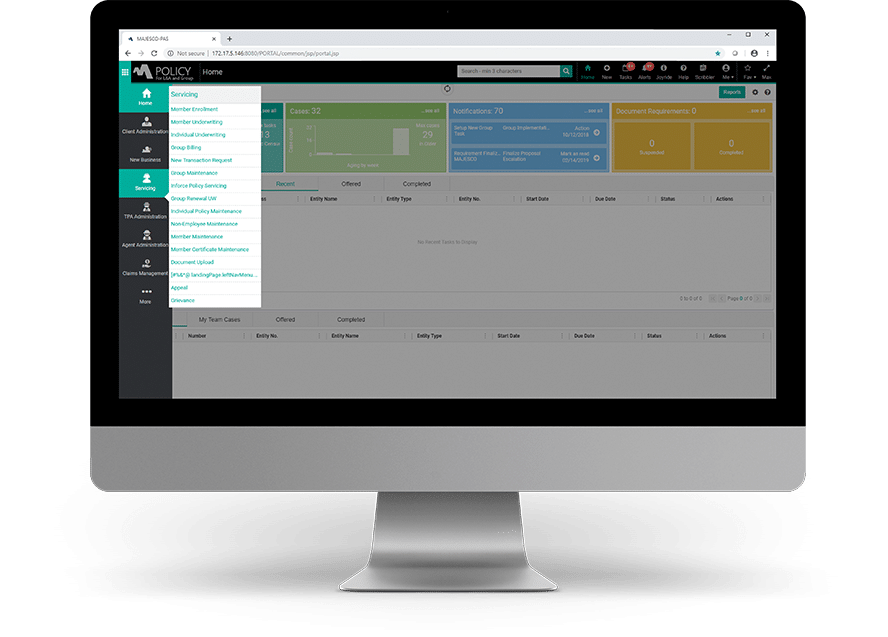 Delivery and Consulting Services for L&A and Group
Accelerate the value of your investments and achieve desired business outcomes
Meet the leaders who own the future of L&A and Group Insurance
As the COVID-19 pandemic has clearly demonstrated, business operating conditions can change dramatically overnight, and life insurance PASs and the infrastructure on which they operate must be scalable, secure and adaptable to change.
Life insurance CIOs should be evaluating their PASs now to determine the degree to which they enable, or are a barrier to, this type of resiliency in the face of disruption.
Gartner,
Magic Quadrant for Life Insurance Policy Administration Systems, North America, 3 August 2020, Richard Natale, Rajesh Narayan
The insurance industry, because of its relatively low transaction volumes and long contractual liability tails, has always followed technology advances that emerge earlier in places like banking and retail businesses.  Even before 2020 dawned, the pressure was on for the industry to accelerate the adaptation of digital capabilities across the array of channels and value chain participants that support the sale and servicing of critical products.  With the unfortunate arrival of the COVID-19 pandemic, the need to put the digital deployment initiatives into overdrive for many organizations became critical, with many key business processes and operational norms changed almost overnight.  Beyond that, once customers, producers and carriers found themselves in the "deep end" of the digitization pool, many found that they very much liked the experience, fueling the notion that going back to the before (pandemic) times is something that few will opt for in the future.  Core systems modernization is foundational to real digital transformation, given the need to improve operational efficiency and access to real time transactional capabilities.  At Novarica, we now see many carriers refining both budgets and plans to adapt to this new, and rapidly changing, reality.
Robert McIsaac |
Executive Vice President of Research and Consulting | Novarica
Our goal is to deliver best-in-class service and tools within our industry. By personalizing the user experience with clearly displayed benefits, features and pricing, we are growing the building blocks which provide a strong pathway for customers to become well informed and to help make the best decisions for themselves and their families.
Scott Berlin,
Senior Vice President at New York Life
This new direction provides us with the opportunity to introduce to the market a unique business model unlike any other. The strategy represents innovation in our approach to growth and is a testament to the reality that every company needs to become a technology company in order to survive.
Marty Lippert,
Executive Vice President and Head Global Technology & Operations at MetLife
Celent is seeing increased activity in back-office transformations. This release of Majesco's suite offers a single platform for both individual and group/voluntary, which can simplify an insurer's environment. Their continued growth in digital capabilities enhances the value proposition.
Tom Scales,
Head of Americas Life and Annuity at Celent
L&A AND GROUP CORE SUITE RESOURCES
FAQS
What is a L&A core suite?
A core suite include policy, billing and claims components that are pre-integrated across the three, providing a solution that supports the end-to-end lifecycle of a policy.
Why should L&A, group and benefits insurers replace their core systems?
The underpinnings of any overall improvement come back to innovation and technology. Many growth- and operational-oriented areas like digital experience, new products, fluidless underwriting, a back-office refresh, touchless claims and new channels, require investments. The next generation of technology like Majesco L&A and Group Core Suite is maturing – Cloud, API, and microservice-based solutions that are rich in capabilities and content to meet an ever-changing market.
Why is a single platform for both individual and group/voluntary benefits important?
Using a single core platform for individual and group / benefits provides the ability for insurers to grow and retain customers regardless of where they initially start. Voluntary benefits are increasingly popular and offer insurers an opportunity to port a benefit to an inividual product when employees leave their employment but want to retain their insurance. A single platform allows insurers to do this, rather than having multiple systems that do not support customer centricity and increase costs.