A NEW ERA OF CUSTOMER ENGAGEMENT: CREATE NEW BUSINESS MODELS & LAUNCH INNOVATIVE PRODUCTS AND SERVICES
Capture market opportunities while building a sustainable competitive advantage in today's digital age
Seamless, Fast and Simple Digital Billing & Payments
Compelling and unified billing experience for customers and agents
Better Customer Convenience
Provide customers autonomy as they manage their billing experience – from self-registration, guest payments, management of multiple policies, one-time and recurring payments to much more
24x7 Availability
Available for your customers anytime and anywhere
Secure and Scalable Transactions
Secure and frictionless payment experiences that adapt as customer expectations shift
EXPERIENCE THE POWER OF MAJESCO DIGITAL ELECTRONIC BILL360 FOR P&C
Helping you move billing from a back-office function to a key customer engagement opportunity
THE FUTURE OF BILLING & PAYMENTS IS DIGITAL
Built for today with innovative capabilities to help you tackle new challenges tomorrow

RESPONSIVE USER INTERFACE
Delight Customers with a Personal Touch
Unique branded billing experience to meet your customers needs
Responsive experience to sign up, log in, or make quick payments
Access to payment and bill history and status of upcoming payments and due dates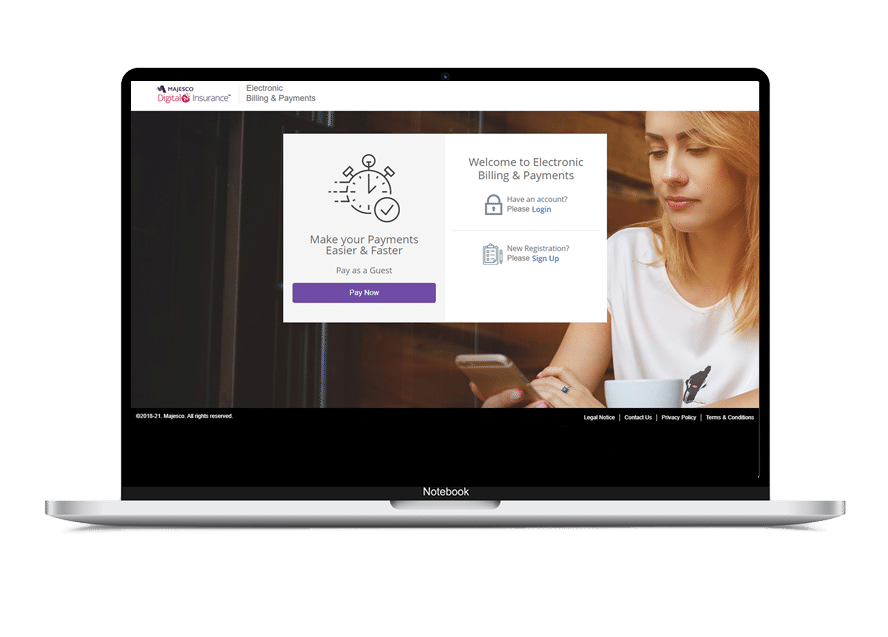 360 DEGREE BILL VIEW FOR CUSTOMERS
Provide customers with convenience and ease of use
One stop shop for customers to view billing and payment details for registered policies
Customize billing and payment flows for ease of use
Transparent transaction details for added security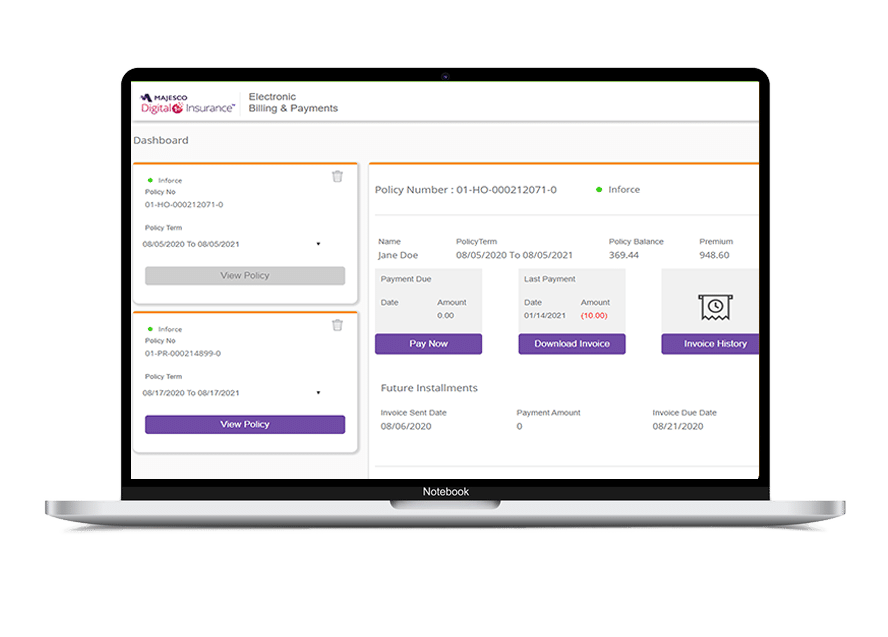 CUSTOMIZABLE PAYMENT JOURNEY
Optimize payments and increase customer satisfaction
Enable onetime payments using cards or back accounts
Built in payment gateway that's pre-integrated with Cyber Source made available through Majesco EcoExchange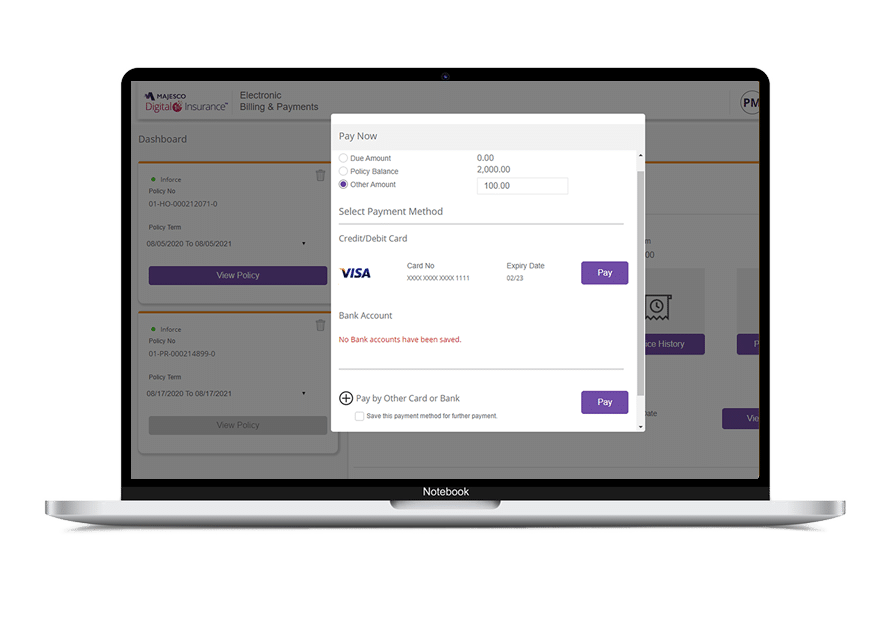 Here's what the industry is saying
We are thrilled to deepen our collaboration with Majesco in servicing mutual clients across the insurance industry, helping facilitate a secure and frictionless payment experience. Being pre-integrated and officially part of the EcoExchange allows our mutual insurance clients to more easily implement our solutions and get up and running quickly, which often translates to quick savings and speed to revenue for our clients.
Dominic Brown,
Senior Director, Business Development at Visa
We recognize the importance of remaining competitive in the midst of today's fast-moving marketplace. We have a keen understanding of what matters most to our customers, agents and brokers and by moving to the cloud, we are bringing them agility, innovation, responsiveness and speed. We consider Majesco a long-term partner and through our evaluation process we reconfirmed that the company's vision, strategy, team and solutions align with our business strategy. Now that we are live, we are well positioned to continue serving our select group of customers and partners.
Crystal Blass,
Head of Operations at CapSpecialty
MAJESCO DIGITAL ELECTRONIC BILL360 FOR P&C RESOURCES
MAJESCO DIGITAL ELECTRONIC BILL360 FOR P&C DELIVERY & CONSULTING SERIVCES
New business models and new tools can benefit from fresh mindsets and expert guidance. Majesco consultants and delivery experts help your organization make the most of its digital decisions.