Majesco Enterprise Data Warehouse
Accelerating insurers' data mastery journey
Many insurers struggle to fully leverage the power of data. Regardless of the type of analytics - descriptive, diagnostic, predictive and prescriptive – insurers must leverage data from traditional and emerging sources including their core systems, third-party data providers, and new technologies to create data-driven insights that enable the "elevation" of insurance.
These integrated sources of data contain unique insights regarding risk as well as consumer behavior, attitudes and preferences, and are instrumental in the design and pricing of innovative new insurance products and services, understanding risk, increasing consumer engagement, optimizing decision-making and capturing new market opportunities. The Majesco Enterprise Data Warehouse (EDW) helps insurers rapidly assemble large data sets from internal and external sources and mine them for transformational insights that help position them as market leaders.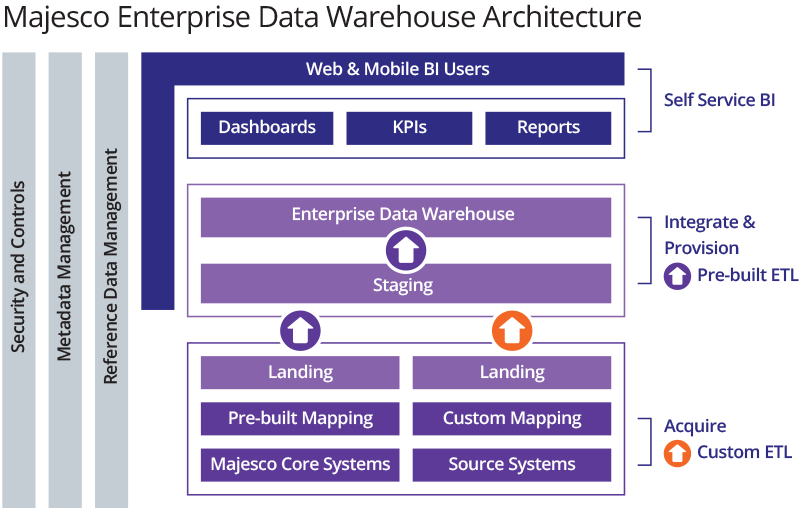 Designed to unlock transformational insights
Majesco Enterprise Data Warehouse integrates multiple, disparate data sources from internal core systems, including policy, billing, claims and distribution, as well as external data sources, both traditional and emerging, to unlock transformational insights. The aggregated data provides a holistic view of your business operations at any level of granularity and any time frame, thereby providing agility and speed to meet tactical and strategic reporting and analytics needs.
---
Accessible analytics for all
Majesco Enterprise Data Warehouse offers a common data repository and visualization layer via intuitive front-end reporting to provide open and easy access to all sources of data for business users. With 34 outof- the-box operational reports, insight generation and problem solving through powerful social collaboration tools is readily available. Pre-built integration with Majesco Business Analytics takes your analytics capabilities to an even higher level.
A flexible framework for your data, today and tomorrow
With the ability to continuously merge new internal and external data into a common data repository, Majesco Enterprise Data Warehouse adapts to the growing sources of new data with a flexible business and technical architecture framework. Built on a standard MS SQL Server BI Platform, enabling insurers to be 100% self-sufficient, it is pre-integrated with the Majesco P&C software portfolio yet is flexible to integrate with other industry software solutions as well.
---
Elevate your data confidence
With built-in data quality and business validation rules, Majesco Enterprise Data Warehouse ensures you can trust your data and subsequently all of your analytics and reporting results. You define what the data means and the Majesco EDW provides the automated governance to know that the data has not been changed to accommodate a particular department or business. You have what you need at all times to be completely confident.